Wilmington and Beaches Convention and Visitors Bureau Grows Alongside Its Leader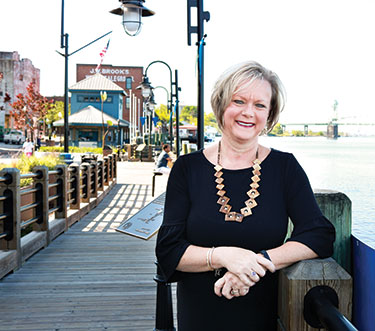 KIM HUFHAM grew on a parallel trajectory to an organization she first worked for as a young professional, just a couple of years after the organization was founded.
Currently the president of the New Hanover County Tourism Development Authority (TDA) – doing business as Wilmington and Beaches Convention and Visitors Bureau, or WBCVB – Hufham says it was a 'very different world' when she started at the bureau, then called Cape Fear Coast Convention and Visitors Bureau (CFCCVB). In her southern drawl peppered with 'dears', Hufham recalls the bureau's modest beginnings and the similar growth spurts she and the organization shared.
The Bureau's Beginnings
There was no internet. Her office had one computer. The only way to market the organization was through advertisements in newspapers and magazines. In those days, staff did lots of trade shows, particularly those catering to motor coach travelers. She remembers the CFCCVB's first website being constructed in the early 1990s.
Ah, the difference of a few decades. Now there's social media, email marketing and platforms where tourists can immediately share information about a tourist destination with a global audience. The bureau has 14 full-time employees who work continuously to expand markets. It has an award-winning website with cutting-edge technology. The bureau has formed and maintains healthy, mutually-beneficial relationships with the city of Wilmington, New Hanover County and its three beach towns as well as other partner organizations interested in promoting tourism to the county. It strives to ensure that tourism gets a seat at the table on important county discussions. After all, Hufham says, the industry employs over 6,000 people in the county, even though they're not under one roof like big business players GE, Corning and PPD.
"We have small mom-and-pop operations to convention centers and hotels," Hufham says of the people that come under the travel and tourism umbrella. And the industry brings in half a billion dollars from outside revenues (see other statistics below).
Tourism also fuels expenditures in the county that improve the lives of people who live here, through investments in things such as infrastructure and outdoor facilities.
"It's the quality of life and the quality of place that sustains restaurants and other attractions like the [Wilmington] Riverwalk," Hufham explains. "We wouldn't have investments or amenities without tourism to sustain them."
The key to marketing Wilmington and other New Hanover destinations is "to own who we are," she says, and to make sure the bureau's messaging portrays an accurate picture of what that is.
Hufham's Beginnings
Before joining the bureau as an administrative assistant in 1989, Hufham worked in finance for the Wilmington airport. She didn't know the bureau existed until she applied for the job. She'd been in the position at the CFCCVB a few years when a sales job became available.
Despite her initial reservation about taking it because she had young children, she took the challenge and began a lifelong love affair with the work and the destination. She stayed in the position for a decade, then served as executive director of Columbus County Tourism Bureau, a smaller operation that gave her new perspective as she saw the difference between grass roots promotion and promoting a proven destination.
She says she grew a great deal professionally from the experience and her newfound knowledge served her well when she returned to serve as executive vice president of Wilmington Cape Fear Coast CVB in 2004 under Judith Grizzell. When Grizzell retired, she asked Hufham if she was ready to take the helm. She was. The TDA board conducted a nationwide search that netted 100 applications.
In December 2006, Hufham was hired as president and CEO. She's subsequently earned several awards and serves on numerous advisory boards and councils.
Her job is to keep an eye on trends and new ways to promote the area. Recently, for instance, the bureau's emphasis has shifted to meetings and conventions and amateur sports, which she calls "a hot market."
The bureau's work is paying off. Some quick facts provided in the 2016 Visitor Impact for New Hanover County report:
• New Hanover County's economic impact from domestic travel was estimated at more than $553 million, representing a 6.3 percent increase over 2015 expenditures and the sixth consecutive record-breaking year.
• New Hanover ranks as number eight among North Carolina's 100 counties in tourism expenditures.
• Jobs supporting a payroll of nearly $130 million were directly provided by travel and tourism in New Hanover County.
To view more of photographer Terah Wilson's work, visit www.terahwilson.com.
Want more WILMA? Sign up for our WILMA Weekly email and announcements at WILMAOnTheWeb.com.