Wilma's 2nd Annual Women to Watch
253 nominations, 8 judges, 7 winners. And here they are…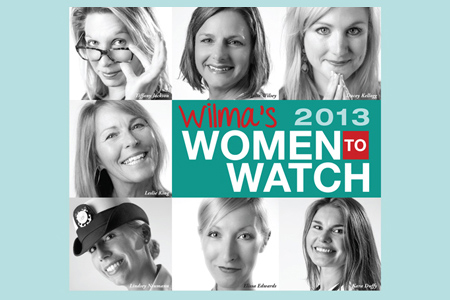 "Those that don't got it, can't show it. Those that got it, can't hide it." –Zora Neale Hurston
It's hard to put your finger on the "it" factor. Maybe it's a driving passion, remarkable talent or overall radiance, but when you meet someone who has it, you know it. This year's judges helped identify our 2013 Women to Watch who've got "it." Let us introduce them…
Click here to read about winner KARA DUFFY, Business
Click here to read about winner DR. TIFFANY JACKSON, Health Care
Click here to read about winner LESLIE KING, Education
Click here to read about winner TRACEY KELLOGG, Nonprofit
Click here to read about winner ELISSA EDWARDS, The Arts
Click here to read about winner JULIE WILSEY, Public Service
Click here to read about winner LINDSEY NEUMANN, Rising Star
ABOUT THE JUDGES
Donna Bost is a vice president at New Hanover Regional Medical Center, where she has worked for 32 years. She is responsible for overseeing the health system's Atlantic Surgicenter, Orthopedic Specialty Hospital at Cape Fear, Behavioral Health Hospital, Rehabilitation Hospital, outpatient clinics, and pharmacy services.
Kelly Buffalino is the owner of Pink-Trash, a waste hauling company in Wilmington that donates one percent of its gross receipts to local breast cancer support group Pretty in Pink Foundation Wilmington. Pink-Trash was named the 2013 Coastal Entrepreneur of the Year.
Wilma Williams Daniels owns William Hooper Apartments and is president of Daniels Development Company LLC. She also is a University of North Carolina Wilmington trustee and has served on the Cape Fear Community College Foundation Board.
Beth Dawson is vice chairwoman of the New Hanover County Board of Commissioners. She was elected to the board in 2012. A retired banker, Dawson also sits on the Southeastern North Carolina Regional Economic Development Commission and is a former New Hanover Regional Medical Center trustee.
Janine Iamunno, joined UNCW in October of last year as executive director of university relations. In previous positions, Iamunno oversaw communications teams at AOL's Patch, CNN, and MTV.
Chiaki Ito, a local attorney and one of the producers at City Stage, has directed the music for more than 80 local shows in the past 12 years.
Julie Orr is founder and president/CEO of Modoc Research Services Inc., a niche clinical research organization. She also serves as co-
chairwoman of the North Carolina Coastal Clinical Research Initiative and is a member of the Biotechnology in Southeastern North Carolina's advisory committee.
JC Skane is executive director of Wilmington Area Rebuilding Ministry Inc. and winner of the 2012 Women to Watch award in the nonprofit category.