Wild Woman
Fearless Profile: Deborah Albert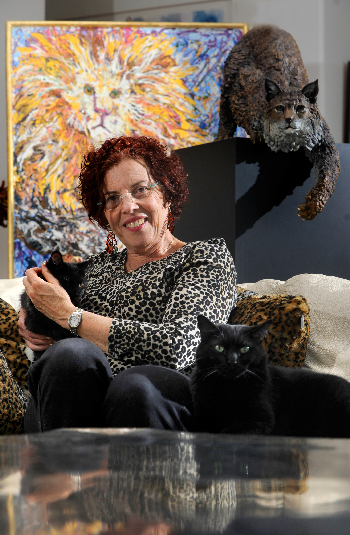 DEBORAH ALBERT is kind of a local superhero, treating sick children and fighting for abused tigers.
As both a pediatric surgeon for New Hanover Regional Medical Center and a leading member of the nonprofit organization ANIMAL WARRIORS, she has helped to shape many areas of the Wilmington community.
ON OPENING AN ANIMAL SANCTUARY:
Animal Warriors is a group of animal-lovers seeking to help wildlife but also to educate people about the proper care and treatment required of them.
Members are working to open an animal sanctuary within thirty minutes of Wilmington to house exotic animals, such as large cats, wolves, and bears that were abused or not properly cared for by private owners. It also would be a safe haven for domestic animals and injured wildlife.
The sanctuary could also include a home for farm animals and a learning center. Albert says they hope to make it eco-friendly with features such as solar power.
The Wilmington area would be the ideal place for such a complex, says Albert.
With warm weather most of the year, southeastern North Carolina's climate would be suitable for the various animals they expect to house.
Having a sanctuary in the area would also provide learning opportunities for school-aged children and university students. She adds that it has the potential to bring more tourists to the area and could be useful for the film industry.
"It's a win-win-win situation," says Albert. To open the sanctuary, Animal Warriors members have been trying to round up financial support.
The group held a "Wild Night" gala at Albert's house in October, set up a booth at Riverfest, and worked at the Salty Paws event. One of the biggest contributions to the project, though, has come from the sale of Albert's photos.
ON TRAVEL AND PHOTOGRAPHY:
"I only started photography in recent years," she says. Albert has traveled the world in the hopes of observing and saving wild animals, and after several trips, a friend suggested she bring along a camera to show the world what she has seen.
Her travels have taken her to places such as Brazil, India, Antarctica, and parts of Africa, Her favorite place is Africa, where she travels to every three years.
Animals have been a lifelong passion for Albert. An owner of five dogs, eight cats, and a number of salt-water fish, she has made several rescues of her own.
She also frequently volunteers at SkyWatch Bird Rescue in Wilmington and has spent much of her time volunteering at different large cat sanctuaries in the country.
"There are few animals that you see in the wild that are as striking," she says, of her favorite large cat, which is the tiger.
She does not, however, own any exotic pets.
ON PROTECTING EXOTIC ANIMALS:
The selling of exotic animals is a large business that Albert disapproves of, and part of the reason behind opening the sanctuary.
Owning a wild animal, she says, is extremely dangerous because the animals do not bond to their owners the way the sellers claim they do. They are also very costly to keep, as they can only consume raw meat – they are not adapted to an artificial diet the way domesticated animals are – which can cost more than $5,000 a year.
"They're a huge undertaking that most people don't realize when they get them as a cub," says Albert. "The truth is, they make terrible pets."
When the animals reach their full size, most owners find that they cannot properly care for them, which results in many of these animals being taken to the sanctuaries – usually arriving in terrible condition.
ON THE FUTURE:
Organizations like Animal Warriors are trying to educate people about the dangers of owning exotic pets. Many groups have tried to get laws passed to end private ownership, though such efforts have been met with large resistance due to the enormity of the business. Instead, they are working harder to rescue these animals.
While the sanctuary Animal Warriors is working to open will take in domestic animals, but that will not be its main focus.
"We're not trying to supplant local rescue groups," says Albert.
They hope to be a resource for smaller rescues and eventually become a nationally recognized organization.
"Part of me thinks that we can have such huge ripple effects with this project," she says.
To view more of photographer Jeff Janowski's work, go to www.jeffjanowski.com.