Wicked Gallery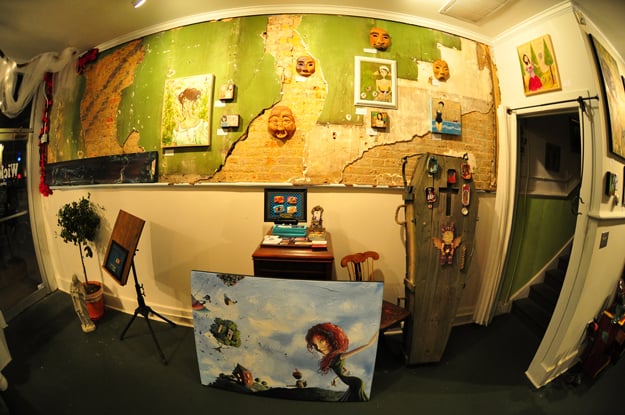 One Wicked Gallery provides walls for local art that might not find a home in traditional galleries. Like memento mori dolls made with human hair or works that feature tiny taxidermy animals. Owner and artist Christina Cole uses the words "low brow," "outsider," "dark" and "surreal" to describe the art on display at Wicked.
"Not typical over-the-couch things," Cole said of her gallery at 205 Princess St.
Wicked made its debut in Wilmington in August 2010. One of its first shows featured a man-sized figure in a black cloak with a tortured-looking, pin-stuck head staring out over Princess Street. The figure is the work of Jeff Coleman, a Fayetteville sculptor who also does special effects for military training videos. It got a lot of strong reactions − screams, people running past it, others coming in to pose beside it for a photo, Cole said. She said she wishes she'd had a camera set up to capture the looks on people's faces.
Cole and her husband, Artfuel tattoo artist Sameul Guin, got the idea for the gallery after starting Feral Art Collective in Fayetteville. Feral was wall space for artists in southeastern North Carolina who don't normally get into museums or recognized by arts councils, Coleman said. Feral set up temporary shows in abandoned buildings and spaces left vacant from failed businesses.
"I was carrying around artwork for 35 people," Coleman said. "So I was like, 'Why don't I give you walls?'"
Wicked is home to outsider artists from around the state. Wilmington artist Gabriel Lehman is the resident artist. His paintings fill the top floor of the gallery. Lehman's work can be seen around town and is often compared to the aesthetic of Tim Burton, featuring whimsical, surrealistic scenes of longing between childlike figures, often girls with big eyes and tiny waists.
Wicked also provides space for community groups such as the Humanists and Freethinkers of Cape Fear, and a vibrant fetish community. Rope classes are held every third Friday of the month at 7 p.m., led by Bodhi, a local teacher of shibari or Japanese bondage.
I asked Cole if she thinks what's going on at Wicked is radical for Wilmington. She doesn't think so, citing her past when she threw raves downtown in the 90s. There are roots for this here, she said.
"It's hard to say because there's not a lot that I find really radical. If I consider it shocking, it's really bad," she said.
To view more of photographer Bryce Lafoon's work, click here. www.brycelafoonphotography.com