Whimsical Walls
Mural movement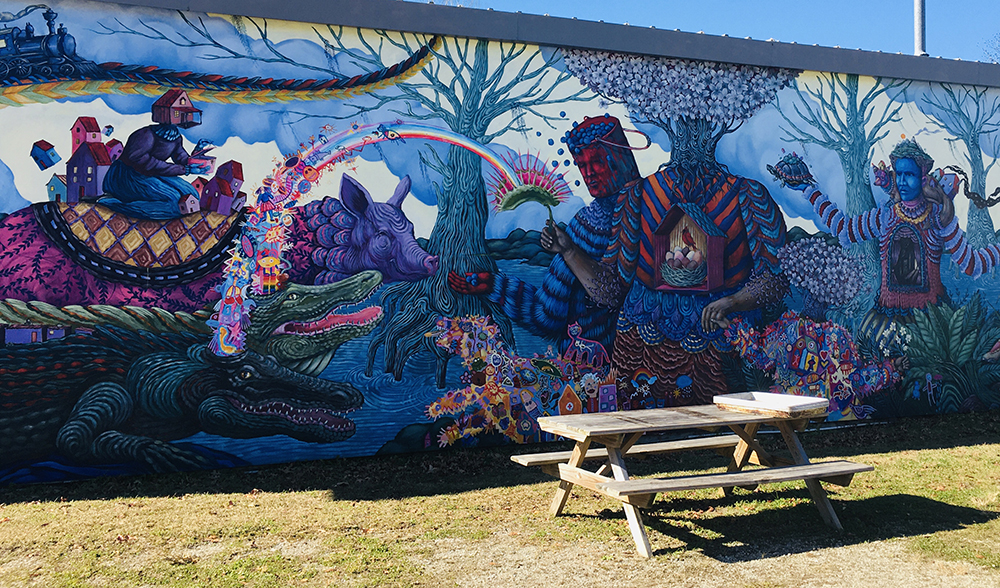 Beyond Carolina Beach, colorful murals can be spotted throughout the Cape Fear region – if you know where to look. Here are just a few brightening up buildings and details about the female artists who created them.
---

Wilmington Brewing Company
824 South Kerr Ave
Artist: Ella Friberg
ellafriberg.com
The timing was perfect when Ella Friberg reached out to Wilmington Brewing's owners Michelle and John Savard about painting a mural for them. The Savards had recently taken ownership of their brewery building on Kerr Avenue and had been thinking of a mural for the outside.
"In my discussion with them, they wanted to bring color to the building, and I just took it from there and came up with a bunch of thumbnail sketches of different options," says Friberg, who painted the mural just before Hurricane Florence in 2018.
"They are known for their hashtag of #wilmingtoncans," Friberg adds. "And then, colors and waves came in as an abstract representation of the ingredients, the small wave design on some of their cans, and their love for the beach and the town. It was a huge honor to paint it because it was my very first mural – and largest mural – and they were just so gracious and encouraging with the entire process."
Friberg has also since painted a mural for the local group paws4people at its Castle Hayne facility.
---

The Sunflower House
613 South 7th Street
Owner: Martha-Anne Efird
simplymaemarketing.com
Martha-Anne Efird, who runs the social media accounts for all of the downtown Wilmington districts, is very involved with the Castle Street district where she lives.
Before COVID-19 hit, the Castle Street Collective would meet monthly to talk about community happenings and how to bring more people to the area. Murals were mentioned as an idea to promote the district and the artists who live there.
"My team and I held a 'Mural Mixer' where we introduced muralists to building owners, discussed city policies, and how we wanted to move forward," Efird recalls.
But then, she says, it seemed like no one wanted to go first.
"So, I decided that in order to ask others to have murals put on their buildings, I had to put a mural on my building – or rather – my home," she says. "I had a mural put on the side of my house that was inspired by my love for Van Gogh's Sunflowers painting."
The ball started rolling, with four to five murals chosen for the district. The timeline slowed because of the pandemic, but two murals have gone up went up. The Welcome to Castle Street mural is on the corner of Castle Street and Fifth Avenue. Another is on the former Rolled & Baked building at 509 Castle Street.
---

Downtown Burgaw
108 East Wilmington Street
Artist: Danaé Brissonnet
danaebrissonnet.com
International artist Danaé Brissonnet, who is from Quebec, visited Burgaw in spring 2017 to paint a giant portrait of Pender County.
The Pender Arts Council – pendercountyartscouncil.org – and the town of Burgaw sponsored the mural project.
"Meeting with various groups and individuals, the artist (Brissonnet) heard stories from community members about the history of Pender County and stories of those who grew up in or moved to the area," says Rochelle Whiteside, president of the Pender Arts Council. "She designed a pictorial representation of those stories, from the founding of Burgaw as a railroad town carved out of the swamp, to the natural landscape of rivers, swamp, wildlife, and agriculture as well as personal experiences."
The resulting mural called Pender Panorama, Whiteside says, "is the creative manifestation of that history and those stories."
---
Mural Movement –