Where's the Party?
Holiday party hop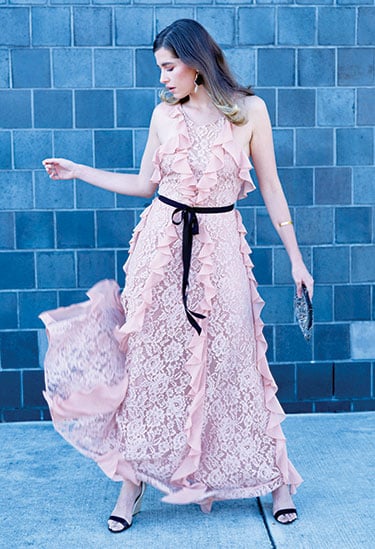 Office parties. Family gatherings. Impromptu cocktail hours. 'Tis the season of celebrations, no matter the setting. While traditions may not change much from year to year, your party attire certainly should.
So get rid of your go-to LBD and take some notes from the WILMA style team, who have scoped out the best and brightest looks for all your holiday soireés, from simple get-together to elaborate gala.
And if your kind of celebration is snuggling on the couch watching Die Hard – well, that outfit you probably have covered … Happy Holidays!
– Nina Bays Cournoyer
Chloe black pencil SKIRT ($88) and Evelyn Barton Brown satin COAT ($385), available at Jess James & Co; Bar RING ($22), available at Monkee's; House of Harlow RING, available at A La Mode; Sequined CAMI ($88), available at Trés Blue; and Blue fox COLLAR ($45), available at Second Skin Vintage
Russian sable wrap ($200) and Gold BELT ($35), both available at Jess James & Co;
After midnight DRESS ($188), available at Trés Blue; and
Jeweled drop EARRINGS ($148), available at Monkee's
1970s green sparkle GOWN ($225), available at Jess James & Co; Diego Binetti fur COAT ($654),available at A La Mode; and Lifted Millinery jeweled HEADBAND ($30),available at Second Skin Vintage
Black velvet with satin ruffle GOWN ($85), Lifted Millinery FEDORA ($185), available at Second Skin Vintage; Crystal EARRINGS ($35), available at Monkee's; and geode RING, available at Trés Blue
MODELS: Hannah Johnston (Directions USA), Savannah Castor
STYLING AND HAIR: Brandy Alexander (Groove Jet Salon Co.)
MAKEUP: Brittani Antoinette
LOCATION: Cameron Art Museum, 3201 South 17th Street
See more photos by Melissa Herbert Photography www.melissahebert.com