What's Brewing?
Pour-over coffee is catching on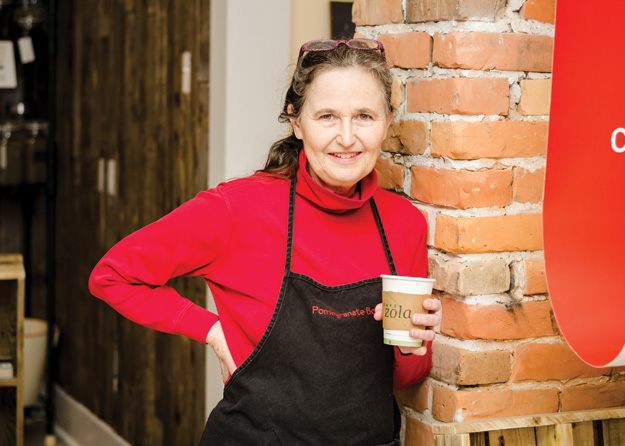 Put away your automatic coffee maker and even your French press because another brewing method is now stealing the coffee shop scene. The trend is pour-over coffee, and it's gaining steam.
What makes this brewing method special, say local baristas and coffee connoisseurs, is that it gives your cup of Joe intensified taste. The pour-over brewing method draws out the flavors, or characteristics, of the coffee – and nothing else.
Pour-over, or hand-drip, coffee "maintains the true essence of the coffee," explains CAFE ZOLA owner KATHLEEN JEWELL. With pour-over brewing, there's no plastic parts for the water to run through, which can impart their own flavor, or essence, says Jewell, into your beverage.
"The water coming through (the funnel) sort of caresses the coffee, swirls around the grounds, instead of just dumping through," Jewell says.
"You get all the nuance – coffees have distinct flavors, and this really brings it out."
The pour-over process involves a ceramic or glass dripper or funnel that's typically placed on top of a mug. It's important to pre-soak the filter, says Jewell, to rid any extraneous flavors that the paper may impart. Cafe Zola's process also involves filtering the water twice before the boiling liquid is slowly poured over the coffee grounds.
"Pour-over isn't fast", she says, but the result in terms of taste is worth the wait.
Jewell's coffee and tea shop, which opened in January inside the long-standing Pomegranate Books on Park Avenue, also employs the "fresh is best" philosophy. With local micro-roasters at their fingertips, Jewell can place orders with the roasters and pick up the coffee beans on the same day.
Jewel likens the proximity of her roasters to that of fresh, local produce. Instead of items travelling for miles before landing on your plate, just like the farm-to-table concept, closer means "more true flavor."
Another coffee connoisseur who sings pour-over brewing method's praises is LUNA CAFFÈ co-owner WILL CHACON. A specialty offered in his and his wife's Castle Street Arts and Antiques District shop, the process produces a more complex java cup, Chacon says.
Since coffee varieties have certain traits, the slower process and single stream of boiling water in pour over personifies the flavors. In contrast, with automatic coffee machines, Chacon says that the water is quickly pushed through.
"There's a whole lot of chemistry behind it," Chacon says. "The coffee first soaks, and it releases the carbon dioxide, in the beginning process."
More hot water is poured over the fresh grounds in the unhurried process, which also releases oils trapped on the beans. The technique takes about five minutes per cup.
"It's like a slow cooker versus a fast cooker," Chacon explains. "The coffee (flavor) will definitely be more interesting."
Like Cafe Zola, Luna Caffè also gets its coffee beans from local roasters, including Hampstead's Java Estate Roastery and Shallotte's Focal Coffee Co. Chacon says that working with local suppliers correlates with the so-called Third Wave coffee movement. The movement is largely about producing higher quality coffee and "bringing more flavor," Chacon adds. "Coffee is comparable to wine."
While the deliberate hand-drip method takes a few more minutes than some to complete, there's one that even takes a few hours to complete. Cold-brewed coffee is said to offer a smoother, sweeter flavor and is often made in a larger batch, instead of a single serving.
Like its hot counterpart, cold-brew coffee begins with ground coffee – coarsely ground in this case – and water. The coffee, however, is steeped in room temperature or cold water for twelve hours or more
"We let it soak for twenty hours," says Chris Batten of Annex Surf Supply in Wrightsville Beach. "(Cold-brew) takes a lot of the acidity out of the coffee."
The grounds are then filtered out, leaving a coffee concentrate. Batten says that people either drink it straight, over ice, diluted with water or creamer, or even pour it over ice cream.
While available by the cup, the shop has additional retail plans in the works for its cold-brewed potion. Batten says the drink will be available for purchase in eleven ounce bottles and on tap.
Another enduring beverage that's hot in 2015 is tea – but not the old fashioned kind. Premium type teas from organic and oolong to Japanese matcha are increasingly available on local shop menus.
The ground green tea is touted for its health benefits and can be found in a variety of products, including lattes, sodas, and even ice cream.
Cafe Zola even offers special blends of loose leaf teas, such as its Cold and Flu Tea. According the shop's Facebook page, the soothing concoction features ginger, peppermint, anise, rose hips, and elderflower.
1. Begin by wetting the filter with hot water to preheat the ceramic cup.
2. Add ground coffee, about 24g per 12oz cup.
3. Add enough hot water to wet the grounds, allowing them to "bloom."
4. Fill the cup with the rest of the hot water, pouring slow and steady.
To view more of photographer Erik Maasch's work, go to www.websta.me/n/emaasch.