What to Expect
March Men's Room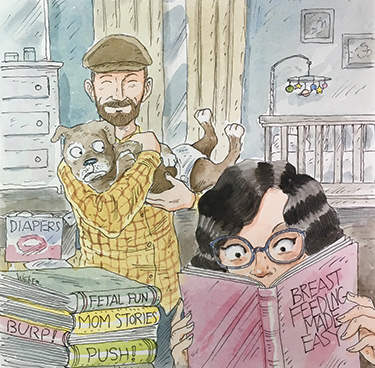 Anthony Corvino is a teacher and Wilmington transplant from New York.
My wife is pregnant. For the past eight months she has had to abstain from sushi, alcohol, and bologna under and/or possibly over 43 degrees Fahrenheit.
The list of rules she must follow to have this baby have left me wondering why I don't take a multi-vitamin every day or pick up a pair of jeans with an elasticized waistband. I was never that impressed with my belly button anyway.
She has read several baby books on breastfeeding, fetal development, and what to do if your baby turns out Slytherin. We're still holding out for Gryffindor, but after a long look in the mirror we have resigned to accept our Hufflepuffian nature. We Corvinos are an average sort.
We put our nursing tops on one sleeve at a time; we cook entire meals based off the color yellow; and we watch YouTube videos compulsively to help explain the mysteries of our MacBook.
In anticipation for the arrival of our son I've been developing a podcast where I explain my thoughts and feelings throughout this nine-month journey.
Each episode lasts about a half hour and ends with a song that reflects the theme discussed or Taylor Swift's "Shake It Off." I plan to give it to my son shortly after his eighteenth birthday.
He'll listen to each podcast, or at the very least the first ten minutes of episode one and two, then realize that his parents had no real understanding of what they were doing.
He'll wonder why they spent most of their time every episode railing against taking out student loans while simultaneously encouraging him to give musical theater a try.
He'll ask himself if his father is really disappointed his only son didn't commit to training at that professional wrestling school in Atlanta. Biochemist can't be that big a step down from the second coming of the Ultimate Warrior, he'll ponder.
Our son's imminent arrival has created an unintended reaction among friends, family, and perfectly unapologetic strangers.
We are a target for advice. We are a homing missile for why you should spank your child, why you shouldn't use formula, and why when preparing the placenta you should always finish with some rosemary or sage but never thyme! Don't be an animal!
It would appear that most anyone who has raised a child or spent in excess of a trip to McDonald's with a five-year-old has an opinion on the subject. My anxiety on this topic doesn't reach overwhelming levels until I start to see my dog Pepper pushing the baby swing back and forth with her mouth as if to try to extoll the virtues of proper swing technique.
But, ultimately, the knowledge that so many people care is heartening.
It is a reminder that while we might not always agree on how to raise a child, when you offer us advice, you are also nonverbally confirming your availability to babysit for a period of four to six hours.
To view more of illustrator Mark Weber's work, go to www.markweberart.blogspot.com.