Welcome Mat
Heather Hawkins moves from the music world to the B&B life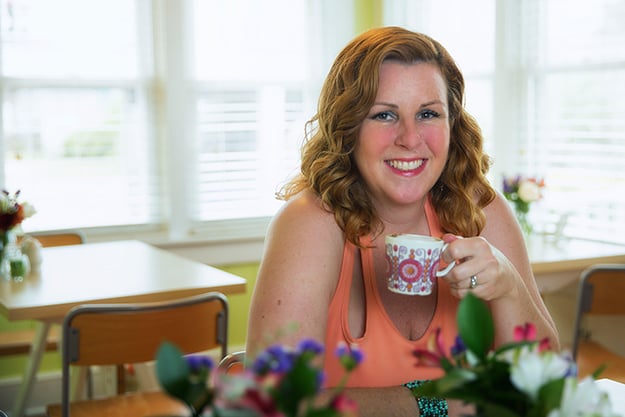 If I were to tell you the BEACON HOUSE INN on Carolina Beach reminds me of a love shack, baby, you'd probably assume I was being derogatory. But HEATHER HAWKINS, curator of the Beacon House Inn would probably take it as a compliment for a multitude of reasons. She may also tell you to hurry up and bring your jukebox money.
Why? The answer is simple: Because the motivation to purchase the Beacon House Inn, revamp, redesign, and take it into the twenty-first-century with modern amenities began with her nuptials in Woodstock, New York to Mike Truffa. For the accommodations at their wedding, they used a place called Kate's Lazy Meadow Motel – a getaway both vintage and quirky, modern and comfy owned by The B-52s band member Kate Pierson.
It was there they drew inspiration from Pierson's glamped-out properties. And with the music businesses going through shaky times, the couple formulated the B&B business into their secondary career.
The music industry is something Hawkins knows well. For more than twenty years in New York City, Hawkins managed and looked after songwriters, artists, mixers, and recording engineers and could be most frequently in the behind-the-scenes process of recording an album.
"I worked with producers who mostly made records with artists that wrote their own songs and played their own instruments," she says.
And though she loved the art of making records, the decision to exit the music business came when the need to be closer to family arose.
"My husband was also ready to leave the corporate world. We have no regrets, as we now realize we make much better business owners than we do employees," Hawkins says.
Make no mistake, though, despite my aforementioned love shack reference, there's no tin roof at the Beacon House Inn. And there's certainly nothing rusted. As a previous boarding house in the '60s and '70s and a survivor of Hurricane Hazel, the couple rebranded the entire building the minute they moved to Carolina Beach in March of 2013.
They cleaned out the proverbial attic, pulled up the old carpet, and replaced everything with items you would find at a unique individualized boutique-style hotel.
"He's the executive chef and runs his kitchen with German-like precision, whereas I'm more in the front of the house with the day-to-day operations mingling with guests," Hawkins says about the division of labor between her and Mike. "He enjoys fixing and building things. Meanwhile, I get to do my song and dance and make people laugh and smile. We are a service-based economy, so we emphasize that. We enjoy anticipating people's needs."
At the Beacon House Inn you'll discover vintage vibes, but with smart TVs. Hawkins tends to use hoteliers like Liz Lambert in Austin, Texas as a muse when it comes to high-end design with their properties.
Not to be outdone entirely by the beach, Heather and Mike offer travelers a downtown Wilmington flat that feels more like a chic metropolitan apartment rather than a hotel room. Added this from their site: The renovated, two-bedroom downtown rental is in a 1930s-era building on South Second Street.
And both the downtown flat and two cottages located behind the Carolina Beach B&B are pet friendly.
For the couple, securing a thriving business revolves around the idea of catering to the needs of guests. And that means providing a handful of different options and a variety of places to stay.
"We have traveled quite a bit and humorously refer to ourselves as lifestyle consultants with a focus on the culinary," Hawkins says. "We definitely like being pioneers in a market and just want to show and help people understand how to travel better, which doesn't mean more expensive. Traveling smarter and getting out of your comfort zone will breed more fulfilling results."
For Hawkins, the bed and breakfast experience should feel like you are visiting old friends. It should still also give the sense of being at home (with the exception of someone else doing all the work). And of course, food and culinary culture is a very important part of the business. As self-proclaimed coffee geeks (the Beacon House Inn serves coffee from Carolina Coffee Company) and serious foodies, and the couple boast that its motto goes hand in hand with owning the Beacon House Inn.
"Savory or Sweet, nothing from a box is how we eat … Be Bold, Be Open!" Hawkins says. "I think that's one of the most important aspects of traveling and enjoying your time away from home."
To view more of photographer Chris Brehmer's work, go to www.chrisbrehmerphotography.com.