Wave Rider
Fearless Profile: Gabby Viorel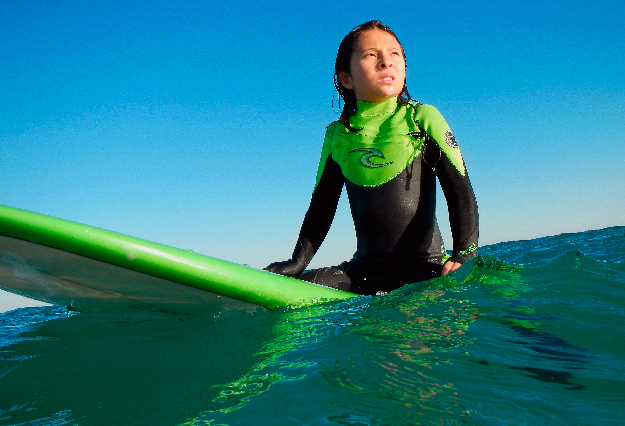 It's a sunny day at Wrightsville Beach. Children play in the water. Kids scurry around, many of them balancing on short surfboards laid on the sand, practicing for their first venture into the ocean.
Nearby, a small boy sits quietly staring at the sand beneath him, occasionally stealing a glance at the hubbub around him. A young girl walks up to him, says hello, and sits down. She begins playing in the sand, building the foundation for a sandcastle. She invites him to join her construction project. Later in the day, that same young girl has coaxed the small boy onto a surfboard and is leading him into the ocean.
Nine-year-old GABRIELLA VIOREL – Gabby – is the official coach of all timid children at INDOJAX. Founded by her father, Jack, a half-dozen years ago, IndoJax is a surf school with a charity mission aimed at mentally and physically challenged populations. Gabby's role is to demonstrate surfing to kids her own age and to work with those who hesitate.
"The first time if I'm surfing with a person I haven't known before, I feel nervous, but once I get to know them, I feel calm and comfortable," she says.
"I like the board underneath me. In the summer, I like the warmth of the ocean. I also like sometimes seeing dolphins."
That job has led the Blair Elementary School fourth grader to India to teach girls who live in an inland orphanage and to Norway to assist in setting up a similar project there.
IndoJax started "with the notion that we would do therapeutic or charity-type surf lessons and camps," says Jack Viorel.
The camps have grown to serve more than 1,000 kids worldwide in the past year. Lessons are taught at Wrightsville, Carolina, and Topsail beaches as well as at Oak Island.
Most of the charity work is staged at Wrightsville Beach, explains Jack, and most of it is with children who have autism or are visually or hearing impaired. But IndoJax also is also active with Wounded Warriors from Camp LeJeune.
The local camps led to the idea of taking the mission to foreign soil. Enter Paul Wilkes, who is involved with several orphanages in India through the Homes of Hope nonprofit. What if IndoJax went to India and taught the girls to surf? A year later, the first trip was made.
Last year, on the third trip, Gabby went along.
"Gabby has grown up in the surf camps and the charities," says Jack. "I noticed how well she worked with some of the girls that were really timid. She would get on the board and tandem surf with them and keep them comfortable. She became part of the program. As the India trip grew, and she got old enough, we thought what a great idea to bring her along, so she went. She was hanging out with the girls the whole time, and she was really into it."
Gabby admits having some anxiety about what it would be like in India as well as having to take all the medical shots beforehand. But before the trip, she assisted with a drive to gather items that they would deliver to the girls: hats, flip-flops, toothbrushes and toothpaste, nail polish, sundresses, sunscreen, and much more.
Once there, she quickly fit in.
"The girls are really nice – really welcoming. I think when I first got there they were really excited to meet me. I made some good friends there," says Gabby.
In addition to teaching, she did a lot of "beach patrol," watching, and lifeguarding.
Out of the ocean she bonded with the girls through artwork, television watching, and elephant riding.
"The elephant was fun. I liked how they had the blanket over him because I didn't like the hair," she says. "I was on the front, and the elephant's ears hit me in the head."
After the success of that trip, Gabby accompanied her dad to Norway to connect with a surf school in the Arctic Ocean.
"It was cold there, but the water was clear with small waves," says Gabby.
The long Arctic days saw them surfing at 3 a.m. because there was enough light to do so safely.
IndoJax aims to have charity schools in multiple places including Half Moon Bay and possibly Peru. "Our demandis growing fast," says Jack.
Gabby is happy with her role.
"At this point, when we have these programs, she just jumps right in," her father says. "She'll befriend and work with some of the timid children and gradually get them down to a surfboard and get them out (into the ocean)."
Gabby's hope is to continue to work with the program.
She'd like to go to Haiti where residents continue to struggle with the aftermath of the 2010 earthquake.
As for the future, when asked if she could see herself someday running IndoJax, she answers a resounding, "Yea!"
To view more of photographer Jeff Janowski's work, go to www.jeffjanowski.com.