Walk on the Wilde Side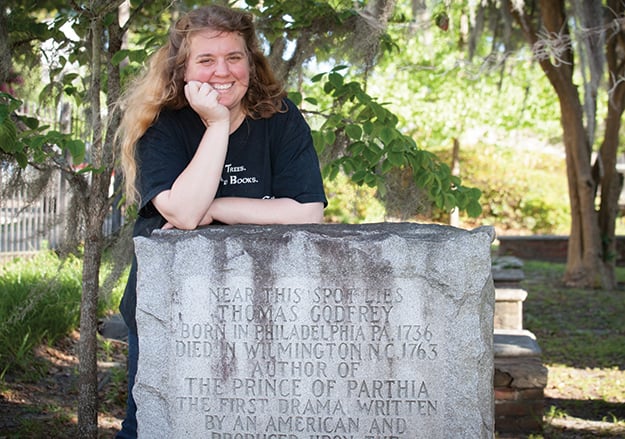 In August of 1872, escaped slave Frederick Douglass, whose best-selling autobiographies influenced the abolitionist movement, spoke to an audience in Thalian Hall. A decade later, within the same walls, playwright Oscar Wilde presented a lecture and then toured the town.
This, among many other remarkable facts, can be discovered and observed while attending GWENYFAR ROHLER's newly established LITERARY WALKING TOUR, hosted by her family's business, Old Books on Front Street.
"There have been really, really significant personages to come through here," she says. "When you talk about the scope of nineteenth- and twentieth-century literature, we've been very actively touched by it."
The Literary Walking Tour travels beyond nineteenth-century history (covering year 1595 through the present) and reaches past Thalian's home at the corner of Chestnut and North Third streets. Every Saturday at 1:30 p.m., the tour begins at Old Books and continues six blocks wide and five blocks deep. Since the April launch, it seems that Rohler's struggle, if one could even call it that, has resulted from having too much literary history to cover within only thirty street blocks in downtown Wilmington.
During the walk, Rohler refers to pages of notes, verifying dates and names as she and her guests stroll the river-adjacent streets. Her first draft contained 187 pages of local literary history for an (intended) ninety-minute tour.
"I've had a fairly engrained interest in local history," she says.
Paired with her passion for reading and writing, her love for history has formed Rohler's boundless abyss of literary knowledge. She was particularly eager to share the true story of twentieth-century author Inglis Fletcher, whose Carolina
Series novels cover more than two hundred years of North Carolina history.
"Because she was a woman and not a man, her books were marketed as romance novels, but they're also stunningly well-researched historical novels," Rohler says.
Much of Raleigh's Eden by Fletcher takes place on Princess Street, where Rohler currently resides.
"I have a sort-of ferret-like personality," she says, referring to her monomania interest. "One of my friends commented that now, basically, I just have a captive audience to do what my friends are used to doing, just walking around downtown with me talking about an arcane amount of knowledge."
Rohler fine-tuned the tour with help from Old Books employee Anthony Lawson, who previously worked with the Ghost Walk of Old Wilmington. While considering the audience's experience, surroundings, and safety, he helped Rohler direct her project's path.
After condensing the information, the tour's main attractions include, but are certainly not limited to, details about four bookstores, five newspapers, three presidents, and multiple book-to-movie adaptations. In the future, Rohler hopes to expand by purchasing an electric golf cart so she may show her audiences more literature-loaded historic destinations.
"Sometimes I forget how beautiful this place is," she says. "I was really unprepared for the number of 'oohs' and 'ahhs.'"
To view more of photographer Meg Beazley's work, go to www.studio133b.com
Comments
comments