W2W Year in Review
Updates on WILMA's Women to Watch Leadership Initiative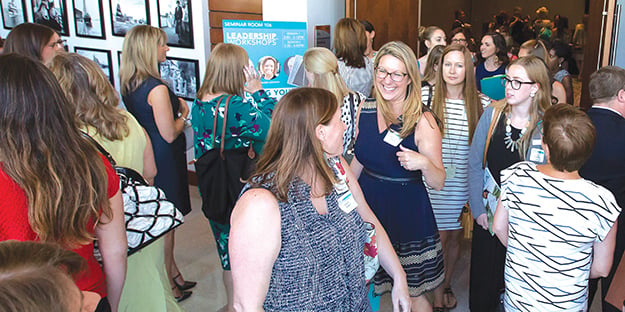 WILMA's Women to Watch Leadership Initiative has updates to share as we continue to work on the effort's mission of helping develop more women leaders in our area. Here's what we've been up to in 2018:
Leadership Accelerator: Hundreds attended this year's Leadership Accelerator event in July (shown above). The half-day event featured a lunch panel discussion with local executives, leadership workshops, a Get on Board program training, and networking. (Stay tuned for details about the 2019 event.)
Get on Board: This year, we launched our Get on Board website to help connect women to local nonprofits and government boards. Throughout the year, we also held Get on Board training sessions in conjunction with UNCW's QENO to help prepare women for board service. (Info: WILMAsGetOnBoard.com.)
Mentoring: We matched thirty women with mentors as part of our yearlong mentoring program. Starting in April through monthly one-on-one meetings, the participants met with their mentors to gain insight and advice about leadership goals. (Applications for the next group of mentoring program participants open in February to those who participated in any Women to Watch program this year.)
Leadership Institute: The 2018 class of WILMA's Leadership Institute, made up of twenty-five women who applied and were selected through a judging process, met monthly for a nine-month program. The 2019 class starts in January. (The application window has closed for next year's class, but announcements for 2020 will go out in the summer.)
WILMA Awards: Thirty-five finalists were recognized in our seventh annual Women to Watch Awards in October. At the awards event, seven category winners were honored. (Applications for next year's awards open in June.)
Cape Fear Women in Tech: The group, formed in partnership between the initiative and tekMountain, held monthly workshops and seminars, networking events, and a Girls Who Code event with girls from Brunswick County schools. (Info: cfwit.com)
WILMA Network: More than eighty women are part of the WILMA Network, made up of representatives from the companies that support the Women to Watch initiative. Members this year also participated in Cape Fear Habitat's Women Build event in May. (Info: Melissa Pressley, 343-8600, ext. 203 or mpressley@wilmingtonbiz.com)
In the Loop: Keep up to date with these and other Leadership Initiative programs as well as applications announcement by going to WILMASToWatch.com or signing up for the WILMA Weekly newsletter.
-Vicky Janowski, WILMA editor, and Maggi Apel, events director, Co-directors of the Women to Watch Leadership Initiative W2W@WILMAOnTheWeb.com
To view more of photographer Mark Steelman's work, go to marksteelmanphoto.com.