W2W Leadership Initiative's September Updates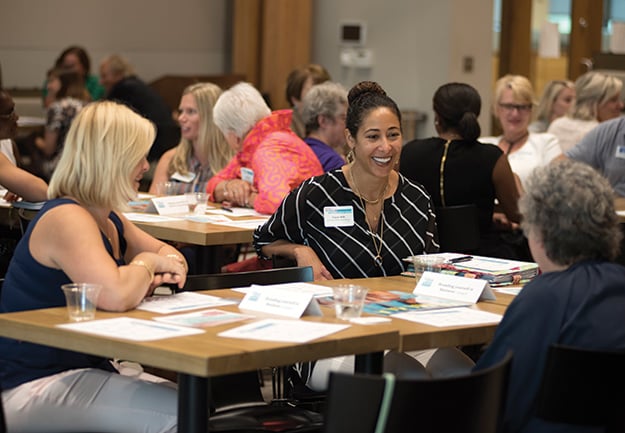 WILMA's Women to Watch Leadership Initiative has updates to share as we continue to work on the effort's core mission of helping develop more women leaders in our area.
Here's what we've been up to with various W2W Leadership Initiative programs, and what's coming up next:
MENTORING: Our next group mentoring event takes place September 27, hosted by UNCW's Swain Center. Mentors – women and men leaders of the community, including members of the Cameron Executive Network – will talk with participants in the speed mentoring event. These group events (shown above) for WILMA readers take place quarterly. Applications for our formal, year-long mentoring program go out in early 2018. Information about registering for the September 27 event can be found here.
CAPE FEAR WOMEN IN TECH: Part of the initiative's goal is to help support groups in the community that bring area women together. Cape Fear Women in Tech, formed in partnership between the initiative and tekMountain, meets 5:30-7 p.m. September 26 for an App Exchange during which members share their favorite apps and software that have been useful to them. The monthly meetings are at tekMountain, 1844 Sir Tyler Drive. Info at cfwit.com.
WILMA NETWORK: The WILMA Network, made up of women from the companies that support the Women to Watch initiative, serve as a resource for each other and represent a variety of area businesses, large and small. Members participate in small-group networking events called 2nd Tuesdays. For Network members wanting info about future 2nd Tuesdays, check the group's private Facebook page. For more information about the Network, contact Melissa Pressley at 343-8600, ext. 203 or mpressley@wilmingtonbiz.com.
IN THE LOOP: Keep up to date with these and other Leadership Initiative programs as well as applications announcement by going to WILMASToWatch.com or signing up for the WILMA Weekly newsletter on our website. Click here for other program updates.
-Vicky Janowski, WILMA co-editor, and Maggi Apel, events director
Co-leaders of the Women to Watch Leadership Initiative
To view more of photographer Michael Cline Photography's work, visit www.michaelclinephoto.com.