W2W Leadership Initiative's September Updates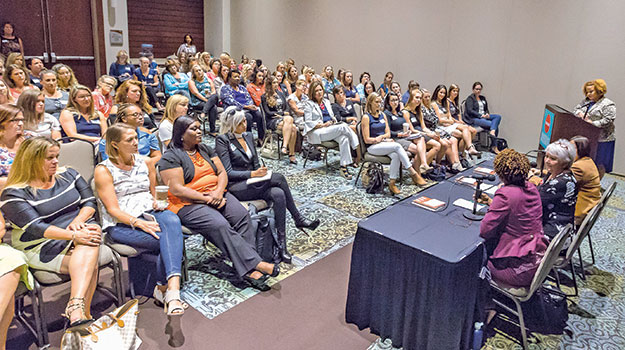 WILMA's Women to Watch Leadership Initiative has updates to share as we continue to work on the effort's core mission of helping develop more women leaders in our area. Here's what we've been up to with various W2W Leadership Initiative programs and what's coming up next:
LEADERSHIP ACCELERATOR: Hundreds attended this year's WILMA's Women to Watch Leadership Accelerator. The half-day event included a lunch panel discussion with local executives, leadership workshops (above), Get on Board program training, and networking. For more photos, check out Facebook.com/wilmamag.
GET ON BOARD: Get on Board seeks to help more women in the region join boards of directors. Women who complete the training session are eligible to list their backgrounds and areas of interest on our website WILMAsGetOnBoard.com so area organizations can expand their applicant pools.
LEADERSHIP INSTITUTE: Members of the 2018 Leadership Institute class wrap up their program this month. The class of twenty-five members spent the past nine months receiving leadership skills training, meeting with leaders in the community, and serving as peer advisors for each other. Applications for the 2019 Leadership Institute open October 1.
WILMA NETWORK: The WILMA Network, made up of women from the companies that support the Women to Watch initiative, serves as a resource for the women involved and represents a variety of area businesses, large and small. Members participate in small-group networking events called 2nd Tuesdays.
IN THE LOOP: Keep up to date with these and other Leadership Initiative programs as well as application announcements by going to WILMASToWatch.com or signing up for the WILMA Weekly newsletter on our website.
-Vicky Janowski, WILMA editor, and Maggi Apel, events director, Co-directors of the Women to Watch Leadership Initiative
Want more WILMA? Sign up for our WILMA Weekly email and announcements at WILMAOnTheWeb.com.