W2W Leadership Initiative's May Updates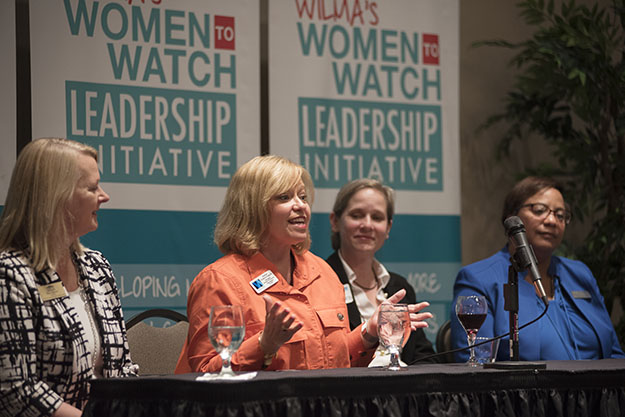 WILMA's Women to Watch Leadership Initiative has updates to share as we continue to work on the effort's core mission of helping develop more women leaders in our area.
Here's what we've been up to with various W2W Leadership Initiative programs, and what's coming up next:
WILMA Network: In April, we held a special event for members of the WILMA Network, made up of representatives of companies that support the Initiative. The panel talk at the Wilmington Convention Center featured some of the area's newest women leaders to discuss leadership advice and what's next for their groups. The panelists were: UNCW CIE Director Diane Durance (from left), Wilmington Chamber of Commerce President and CEO Natalie English, UNCW Swain Center Director Laura Lunsford, and Convention Center General Manager Fredia Brady. For more event photos, go to Facebook.com/WILMAmag.
Award Applications: Applications open May 1 for this year's WILMA's Women to Watch Awards. The magazine's annual awards recognize up-and-coming women in a variety of fields. For the application and more details go to W2WAward.com. (Note: Applications for the annual Leadership Institute will go out in the fall).
Mentoring Program: Speaking of Laura Lunsford, the Swain Center director who studies mentoring and has written a book on the topic, will be helping us with our W2W Mentoring Program. Some of the areas Lunsford will contribute to include monthly mentoring tips for the sixty mentors and mentees in our formal, yearlong program. She also will help facilitate quarterly mentoring events open to the general WILMA audience. Stayed tuned for more info about that next event in June.
IN THE LOOP: Keep up to date with these and other Leadership Initiative programs by going to WILMASToWatch.com or signing up for the WILMA Weekly newsletter on our website.
-Vicky Janowski, WILMA co-editor, and Maggi Apel, events director
Co-leaders of the Women to Watch Leadership Initiative
To view more of Michael Cline Photography's work, go to www.michaelclinephoto.com.