W2W Leadership Initiative's March Updates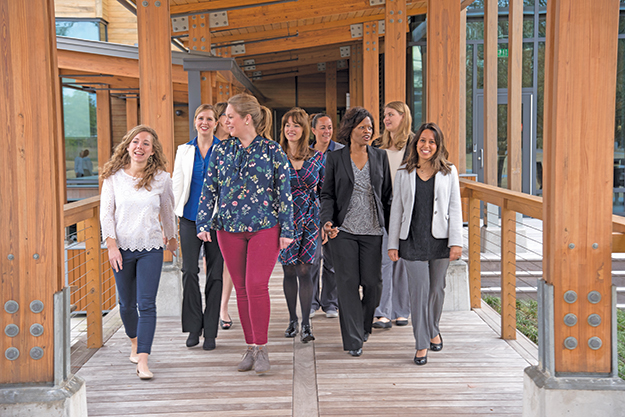 WILMA's Women to Watch Leadership Initiative has updates to share on efforts as we continue to work on its core mission of helping develop more women leaders in our area.
Here's what we've been up to with the various W2W Leadership Initiative programs, and what's coming up next:
Leadership Institute: Each month, the group of nine women in this year's Women to Watch Leadership Institute meet for half a day for leadership skills training, peer mentoring, and time with local executives and officials. In January, the class met at Live Oak Bank (above) and talked with chairman and CEO Chip Mahan. Applications will open later this year for the 2017-18 Leadership Institute.
Mentoring Program: Participants in our year-long mentoring program came together for a group event. Held at The Beam Room, it gave a chance for mentees to meet new leaders and get additional career advice. Applications have gone out for the program's 2017-18 round – those who participated in Women to Watch programs last year were invited to apply.
Large events: As part of the initiative, we hold several large events during the year for women to learn more about leadership issues and be inspired by others. The next one takes place March 7 at the Wilmington Convention Center when chef, best-selling cookbook author, and restaurateur Vivian Howard stops in Wilmington to talk about her career and her future in the Port City. Info: W2WLunch.com
WILMA Network: The WILMA Network, made up of women from the companies that support the Women to Watch initiative, met for small-group networking over lunch at Bluewater Waterfront Grill. For more information about the Network, contact Melissa Pressley at 343-8600, ext. 203 or mpressley@wilmingtonbiz.com.
To keep up to date on these and other happenings, go to WILMASToWatch.com.
-Vicky Janowski, WILMA co-editor, and Maggi Apel, events director
Co-leaders of the Women to Watch Leadership Initiative
To view more of photographer Mike Cline's work, go to www.michaelclinephoto.com.