W2W Leadership Initiative's July Updates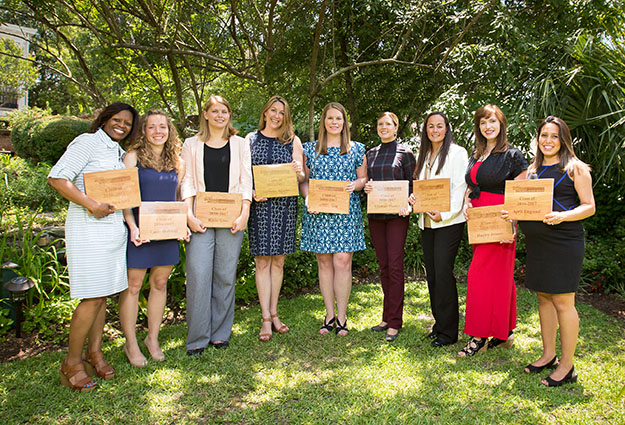 WILMA's Women to Watch Leadership Initiative has updates to share as we continue to work on the effort's core mission of helping develop more women leaders in our area.
Here's what we've been up to with various W2W Leadership Initiative programs, and what's coming up next:
LEADERSHIP INSTITUTE: Members of the 2016-17 Leadership Institute class capped off their year with a graduation program last month attended by members of the WILMA Network and held at the City Club of Wilmington. The nine women, selected last year by judges from a pool of applicants, represented a variety of fields. The met monthly for leadership skills, training, peer mentoring, and executive networking. Congratulations to this year's graduates! Applications for next year's Institute open this fall.
MENTORING PROGRAM: We also held a group mentoring program in June, open to all WILMA readers. Taking place at Live Oak Bank, the event included discussions with area leaders on topics such as negotiating and goal setting. The event, the first of these quarterly get togethers, filled up quickly, with about fifty readers registering for the available slots as mentees. Keep an eye out for the next one in the coming months.
W2W AWARDS: Our panel of judges meets this month to review applications and nominations for the 2017 WILMA's Women to Watch Awards. Five finalists will be picked in each of seven categories, and those selected will be notified mid-July. October's issue of WILMA is devoted to those highlighting those finalists, leading up to an awards ceremony October 13.
In the Loop: Keep up to date with these and other Leadership Initiative programs as well as applications announcement by going to WILMASToWatch.com or signing up for the WILMA Weekly newsletter on our website.
-Vicky Janowski, WILMA co-editor, and Maggi Apel, events director
Co-leaders of the Women to Watch Leadership Initiative
To view more of photographer Mark Steelman's work, go to www.marksteelmanphoto.com.