W2W Leadership Initiative's July Updates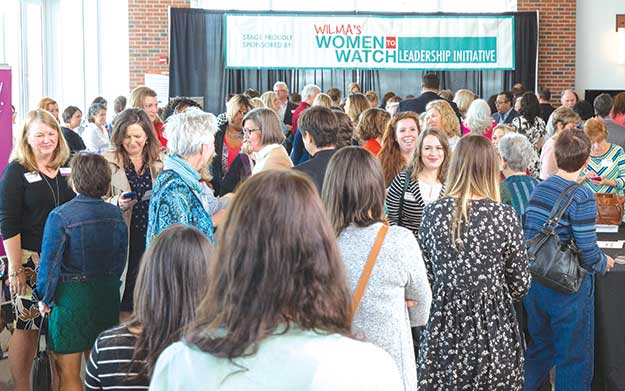 WILMA's Women to Watch Leadership Initiative has updates to share as we continue to work on the effort's core mission of helping develop more women leaders in our area. Here's what we've been up to with various W2W Leadership Initiative programs and what's coming up next:
LEADERSHIP ACCELERATOR: This month brings our next Women to Watch Leadership Accelerator (shown above). The half-day event July 19 kicks off with a lunch panel discussion with local executives (Judy Girard, co-founder of the all-girls charter school GLOW and former Food Network head; Wanda Coley, president of Well Care Health; Brett Martin, CEO of CastleBranch; and David Simmons, CEO of PPD). Also taking place are several leadership workshops, a Get on Board program training session, and networking. For more info and to register, go to WILMALeadership.com.
GET ON BOARD: Women who complete our Get on Board training, facilitated in partnership with UNCW's QENO and United Way of the Cape Fear Area, are eligible to list their backgrounds and areas of interest on our website WILMAsGetOnBoard.com to find board membership opportunities. Local groups with committee and board member openings also can sign up to list application details.
LEADERSHIP INSTITUTE: Members of the Leadership Institute class continue to meet monthly for skills training and to hear from area leaders. In June, members focused on negotiation techniques with GE-Hitachi officials. This month, they turn to the topic of navigating conflict. Applications for next year's Institute open this fall.
IN THE LOOP: Keep up to date with these and other Leadership Initiative programs as well as applications announcements by going to WILMASToWatch.com or signing up for the WILMA Weekly newsletter on our website.
-Vicky Janowski, WILMA editor, and Maggi Apel, events director, Co-directors of the Women to Watch Leadership Initiative W2W@WILMAOnTheWeb.com
To view more of photographer Chris Brehmer's work, go to chrisbrehmerphotography.com
Want more WILMA? Sign up for our WILMA Weekly email and announcements at WILMAOnTheWeb.com.