W2W Leadership Initiative's January Updates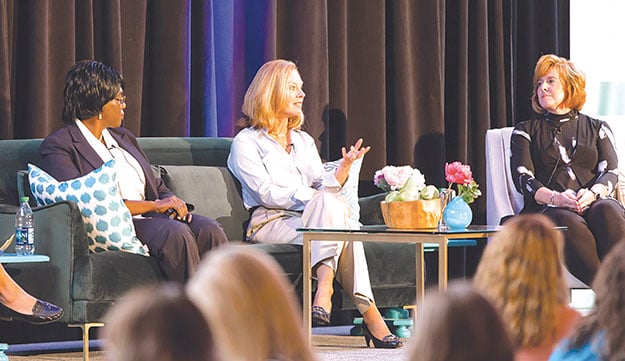 WILMA's Women to Watch Leadership Initiative has updates to share as we continue to work on the effort's core mission of helping develop more women leaders in our area.
LEADERSHIP ACCELERATOR: The 2017 Leadership Accelerator, a day of leadership training for area women, was December 1 – part of the annual WILMA Expo weekend. A keynote lunch panel (shown above), with Terry Espy, Donna Esteves, Lori Feezor, Avril Pinder, and Trisha Price, discussed topics ranging from leadership styles to taking more risks with career goals. For more details and photos from the two-day event, see page 20.
MENTORING: Participants in the Initiative's yearlong mentoring program, pairing woman with female and male executives in the area, meets this month to jump-start their 2018 goals and share advice within the group. Applications for the mentoring program's next group will go out in February to those who participated in any Women to Watch program last year.
WILMA NETWORK: The WILMA Network, made up of women from the companies that support the Women to Watch initiative, serve as a resource for each other and represent a variety of area businesses, large and small. Members participate in small-group networking events called 2nd Tuesdays.
IN THE LOOP: Keep up to date with these and other Leadership Initiative programs as well as applications announcement by going to WILMASToWatch.com or signing up for the WILMA Weekly newsletter on our website.
-Vicky Janowski, WILMA co-editor, and Maggi Apel, events director
Co-leaders of the Women to Watch Leadership Initiative
To view more of photographer Chris Brehmer's work, visit chrisbrehmerphotography.com.