W2W Leadership Initiative's December Updates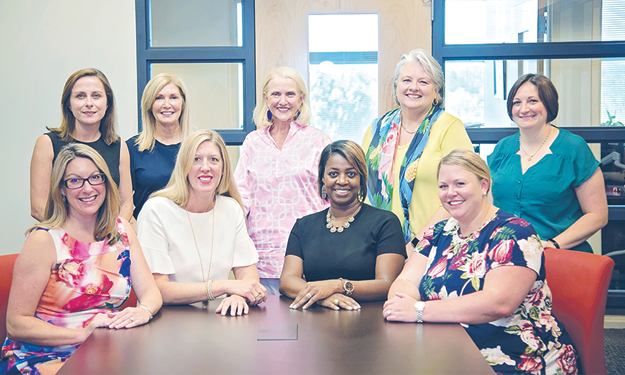 WILMA's Women to Watch Leadership Initiative has updates to share as we continue to work on the effort's core mission of helping develop more women leaders in our area.
As we wrap up 2017, we want to take the opportunity to recognize a group of women whose time and insight has been invaluable as we continue to grow our initiative.
The Leadership Initiative has an advisory board (members shown above) that meets quarterly to provide feedback about ongoing programs and ideas for how best to expand content.
This Women to Watch "think tank" or "brain trust" is made up of a range of women, from executives at some of the area's largest employees to small business owners. All are extremely busy, and we appreciate the time and input they bring to what we're trying to accomplish.
Advisory board members also serve as judges for our annual Women to Watch Awards recipients and Leadership Institute class members – through which they provide a direct impact on helping area women reach their goals.
Thanks to all our board members, as well as everyone who has supported the Leadership Initiative this year.
WOMEN TO WATCH ADVISORY BOARD
STEFANIE ADAMS, Graduate (WILMA Leadership Institute)
KIM BANKSTON, GM, Human Resources (GE Hitachi)
WANDA COLEY, President, COO (Well Care Home Health)
DANA COOK, Owner (Julia's Florist)
PAULA CORBETT, CEO (Eastcoast Research)
Donna Esteves, Americas Regional Supply Chain Manager (Corning Incorporated)
Lauren Henderson, CFO/President (CastleBranch Corp./tekMountain)
Kristy Hubard, Vice President, Strategic Services (NHRMC)
Lisa Mesler, Bank Mortgage Market Manager (PNC)
Leigh Robbins, Director of Operations (DermOne)
Kelly Schaudt, Chief Operating Officer (Wilmington Health's ACO Physicians Healthcare Collaborative)
Debbie Warwick, Senior VP Operations (Live Oak Bank)
-Vicky Janowski, WILMA co-editor, and Maggi Apel, events director
Co-leaders of the Women to Watch Leadership Initiative
To view more of photographer Michael Cline Photography's work, visit www.michaelclinephoto.com.