W2W Leadership Initiative's August Updates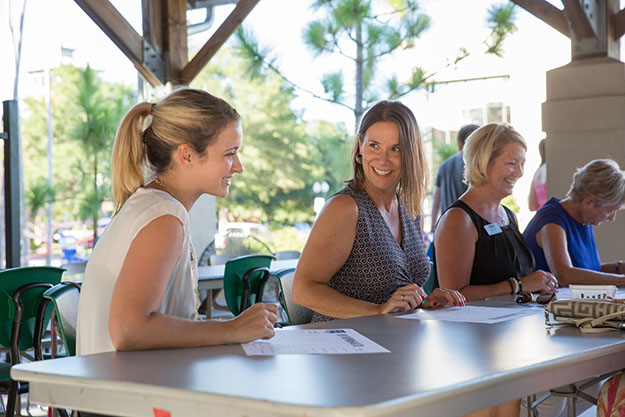 WILMA's Women to Watch Leadership Initiative has updates to share as we continue to work on the effort's core mission of helping develop more women leaders in our area.
Here's what we've been up to with various W2W Leadership Initiative programs, and what's coming up next:
WILMA NETWORK: The WILMA Network, made up of women from the companies that support the Women to Watch initiative, serve as a resource for each other and represent a variety of area businesses, large and small. Recently, members have participated in small-group networking events called 2nd Tuesdays. The monthly get-togethers have included lunches, dinners, and a night out in July at Cape Fear Museum's Museum After Dark series (above). For Network members wanting info about future 2nd Tuesdays, check the group's private Facebook page. For more information about the Network, contact Melissa Pressley at 343-8600, ext. 203 or mpressley@wilmingtonbiz.com.
LEADERSHIP ACCELERATOR: Last year we launched the Leadership Accelerator event, a half day of education seminars and networking for area women that took place in the fall. This year, we're making it even bigger with a keynote panel talk, new seminars, and an after-hours party. We're also moving it to December 1 and combining it with the annual WILMA Expo for a two-day lineup of leadership training, connections, shopping, and fun. For more info, go to wilmaexpo.com.
IN THE LOOP: Keep up to date with these and other Leadership Initiative programs as well as applications announcement by going to WILMASToWatch.com or signing up for the WILMA Weekly newsletter on our website.
-Vicky Janowski, WILMA co-editor, and Maggi Apel, events director
Co-leaders of the Women to Watch Leadership Initiative
To view more of photographer Chris Brehmer's work, visit chrisbrehmerphotography.com.