W2W Leadership Initiative's April Updates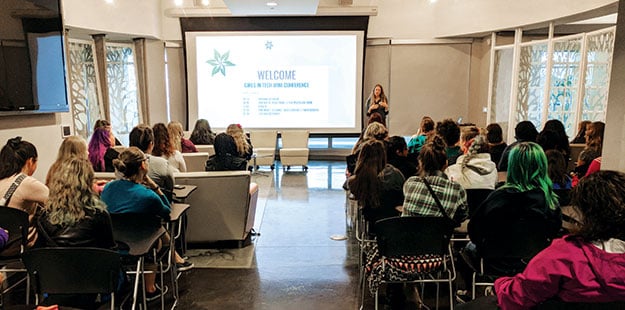 WILMA's Women to Watch Leadership Initiative has updates to share as we continue to work on the effort's core mission of helping develop more women leaders in our area. Here's what we've been up to with various W2W Leadership Initiative programs and what's coming up next:
CAPE FEAR WOMEN IN TECH: The group, formed in partnership between the initiative and tekMountain, held a Girls Who Code event (shown above) in February at tekMountain during which members talked with girls from Brunswick County schools. Cape Fear Women in Tech has transitioned to a membership model. It is holding a Founding Fifty for Fifty membership drive with a lower subscription of $50 a year for the first fifty members who sign up. After those slots are filled, annual memberships will be $65. Members have free access to monthly events and discounts for workshops. This month's event is April 24 with Judy Smith on professional and business value propositioning. The May event will focus on the issue of net neutrality. In addition to the monthly events, the group also hosts a no-charge social meetup each month. Info: cfwit.com
GET ON BOARD: The next Get on Board training session is April 10. The Get on Board program seeks to help more women in the region join boards of directors. Women who complete the training session are eligible to list their backgrounds and areas of interest on our new website WILMAsGetOnBoard.com so area organizations can expand their board applicant pool.
ADVISORY BOARD: W2W's advisory board members met in March for its quarterly meeting to hear updates about the program and give feedback for ideas to grow it.
MENTORING PROGRAM: The next year-long Mentoring Program kicks off April 5 with orientation for the new group of thirty mentors and thirty mentees, paired up based on the mentees' leadership goals. For a full list of the mentors go to WILMAOnTheWeb. com. The women picked as mentees were invited to apply because they had participated in some Women to Watch leadership program in the past year. Special mentoring events will take place throughout the year and will be open to WILMA readers, so keep an eye out for announcements.
IN THE LOOP: Keep up to date with these and other Leadership Initiative programs as well as applications announcement by going to WILMASToWatch.com or signing up for the WILMA Weekly newsletter on our website.
-Vicky Janowski, WILMA editor, and Maggi Apel, events director Co-directors of the Women to Watch Leadership Initiative W2W@WILMAOnTheWeb.com