W2W Leadership Initiative's April Updates
Updates on WILMA's Women to Watch Leadership Initiative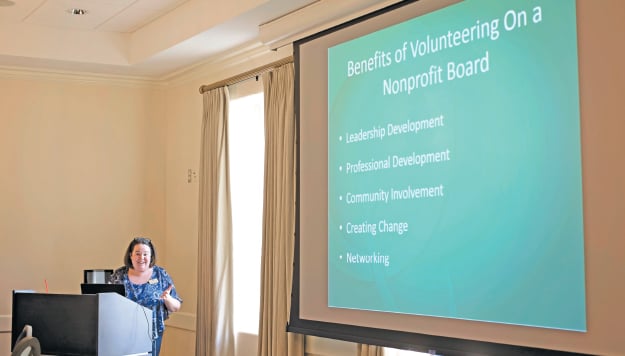 WILMA's Women to Watch Leadership Initiative has updates to share as we continue to work on the effort's core mission of helping develop more women leaders in our area. Here's what we've been up to with various W2W Leadership Initiative programs and what's coming up next:
BOARD TRAINING: The latest Get on Board session, with training by UNCW's QENO, took place last month at Live Oak Bank (file photo shown above). Women who have gone through Get on Board were invited to participate in a speed networking event this month for the opportunity to meet officials from a number of local nonprofits.
Get on Board's goal is to get more women placed on area boards of directors. Those who go through the training are able to post on our board connecting website at WILMAsGetOnBoard.com. Area organizations also can post their board and committee info on the website.
The next Get on Board training is scheduled to take place at our upcoming Leadership Accelerator event July 18.
MENTORING: Participants in the 2019-20 mentorship program kicked off their year with orientation and discussion during the Greater Wilmington Business Journal's WilmingtonBiz Conference and Expo on March 27. Group mentoring events, open to the full WILMA readership, will take place later this year.
LEADERSHIP INSTITUTE: Members of the this year's Leadership Institute met last month at Corning to learn more about the Wilmington plant and to participate in a skills seminar on sales techniques by N2 Publishing's Marty Fukuda. The Institute is made up of thirty-two women who meet monthly for leadership skills training, interaction with area executives, and peer mentoring sessions. Applications for next year's class open again in the fall.
IN THE LOOP: Keep up to date with these and other Leadership Initiative programs as well as applications announcement by going to WILMASToWatch.com or signing up for the WILMA Weekly newsletter on our website.
-Vicky Janowski, WILMA editor, and Maggi Apel, events director, Co-directors of the Women to Watch Leadership Initiative W2W@WILMAOnTheWeb.com