W2W Alum
An update on previous Women to Watch winners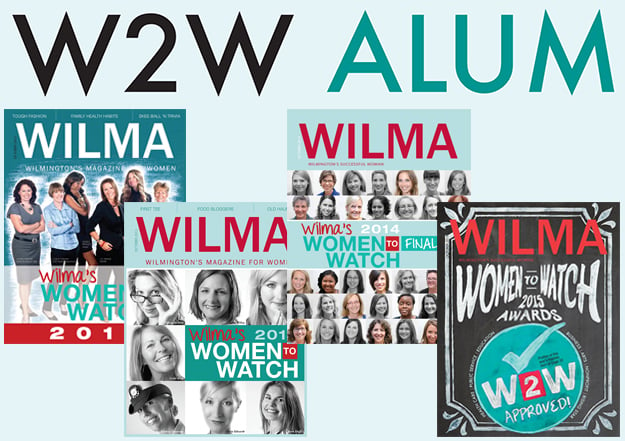 To mark the fifth year of WILMA's Women to Watch Awards, we checked in with the twenty-seven recipients to see what they've been up since winning. Here are some of their updates.
Lori Messinger (Education, 2014)
After winning, Messinger left her role as director of the UNCW School of Social Work, taking a position in the provost's office as associate vice chancellor for community engagement. There, she oversees the university's engagement efforts as well as summer programming.
The Office of Community Engagement works with other units on campus to bring together faculty, staff, and students from the university with local, regional, national, and international partners.
"In this role," she says, "I connect with many WILMA Women to Watch winners and nominees, all of whom do amazing work in our communities."
Natasha Davis (Nonprofit, 2015)
Quality Enhancement for Nonprofit Organizations (QENO), of which Davis is executive director, has moved to UNCW's Office of Community Engagement, allowing QENO to be a university-wide program.
QENO also has secured an additional $90,000 in grants.
Davis served on the leadership team for the SECU Rural Summer Internship program and on the leadership team to develop and launch EngageSENC, which launches October 14 at the UNCW Community Engagement Conference.
Lindsey Neumann, (Rising Star, 2013)
After being named Rising Star, then-operations specialist with the U.S. Coast Guard, Neumann was selected for and graduated with a commission from Coast Guard Officer Candidate School in May.
She is currently stationed in Seattle at Coast Guard Sector Puget Sound as an enforcement officer.
Neumann, who is also pursuing her MBA, has become involved in her new port city. She serves as coordinator for the Coast Guard for the Partnership in Education in the Seattle region as well as a Girls on the Run coach and committee member for the planning and coordination of the GOTR 5K next spring
Leslie King, (Education, 2013)
King continues to impact young children's development as director of the CFCC Child Development Center, advocating for young children and families by ensuring that access to high-quality child care for all children in the community is seen an important issue.
"It was such an honor to be recognized by WILMA as a WTW (Women to Watch)," she says. "The first 2,000 days of a child's life is critical to the rest of his/her life. Any opportunity to shine a light on the value of a high quality early childhood experiences is appreciated."
JC Skane (Nonprofit, 2012)
Skane remains executive director of WARM, and the nonprofit that provides repairs and accessibility upgrades for low-income homeowners in the area has doubled the number of people served annually in the past five years.
The growth and return on investment earned WARM in 2014 a Coastal Entrepreneur Award in Nonprofit.
Personally, Skane has been speaking at state conferences for the North Carolina Center for Nonprofits and North Caroling Housing Coalition. She also serves as chair of the Cape Fear Housing Coalition and is now working on her MBA. She hopes to start a social enterprise that will help fund the most urgent needs of WARM's homeowners.
"I was so excited to be a Woman to Watch in the first year of the awards. The most powerful way it impacted my career was knowing that others believed in me and saw potential for the same growth and success I desired," Skane says. "In addition, the award increased the awareness of WARM in the community."
Elizabeth Boardman (Rising Star, 2015)
Boardman, co-founder of The Milspo Project that provides resources and support to military spouse entrepreneurs and a Realtor with Lanier Property Group, graduated from Seth Godin's altMBA3 class.
The Milspo Project is planning its third annual Embark Conference this year in Norfolk, Virgina.
Laura Hunter (Education, 2012)
After winning the first Education category award, Hunter – then a teacher at South Brunswick High School – went on to be a district administrator in Brunswick County Schools.
She now is the founding principal of the Girls Leadership Academy of Wilmington (GLOW), the state's first and only single-gender public charter school. GLOW opened in August with one hundred sixth-grade girls and will add on a grade level each year until it graduates its first class in 2023.
Kyle Horton (Health, 2015)
Horton, a physician, continues her efforts as a veterans health advocate, working on implementation of the federal Clay Hunt Suicide Prevention for American Veterans Act, for which she lobbied. That has included working on the planning committee for the Fayetteville VA Mental Health Summit, inspired by the measure.
She also worked with U.S. Sen. Tammy Baldwin's staff on provisions of a veterans opiate safety bill that was recently signed into law. She also has been focused on local proposals to address affordable housing shortage.
Horton, who lost a member of her extended family in the Deepwater Horizon explosion, also has been involved on environmental advocacy.
Julie Wilsey (Public Service, 2013)
Wilsey was the first Public Service category winner when it was added in the second year of the awards. The then-deputy airport director was later named director of Wilmington International Airport, taking the position in January 2015.
The airport since then has made minor adjustments to its team and corporate culture to reflect the strategic goals of the new leadership team. Wilsey and the airport is preparing for the influx of visitors for the Wells Fargo Championship PGA Tour event next year.
Wilsey spoke at the Greater Wilmington Business Journal's most intriguing people Power Breakfast event. In August, she completed her MBA from Embry Riddle Aeronautical University.
Julie-Ann Scott-Pollock (Education, 2015)
Scott-Pollock, who works as an associate professor of communication studies at UNCW, became the 2016 recipient of the National Communication Association's Ethnographic Article of the Year Award and will be honored at its annual convention in Philadelphia in November.
"Scott-Pollock's work is exceptionally well-written and superlative in all aspects. But its greatest merit comes from disrupting the apparent dichotomy of the researcher and researched. The take-away was simultaneously impactful and nuanced in a thoughtful and beautiful way," the award committee says. "In ethnographic work, it's easy for stunning stories to be told, but too often we overlook the flip side of those stunning stories to consider the daily choices and practices that shape our world and more importantly the world of those around us."
Ashley Loftis (Public Service, 2014)
When Loftis accepted her award she was finance director for the town of Burgaw. In December 2015, she took a position with the town of Surf City, where she now holds dual titles. Loftis is currently assistant town manager and finance director.
"In this position, I am able to test my skills on a higher level," she says. "I believe that winning this award has helped me tremendously with my career as a public servant, and I hope to continue to expand my career."
Jen Iapalucci (Arts, 2014)
"In the two years since being named WILMA's Woman to Watch in the Arts, I have been busier than ever," Iapalucci says.
She has directed shows for both the Brunswick Little Theatre and Thalian Association's Children's Theatre, and served as stage manager or costumer for over half a dozen other productions.
In 2015, her costume design for Brunswick Little Theatre's Shrek: The Musical was nominated for a StarNews Theatre Award.
Iapalucci also is a founding member of the new Second Star Theatre Company and just launched a costume and custom sewing business, Sartor Designs.
Jenna Curry (Rising Star, 2014)
Curry, director of marketing for Little Wing Marketing, also is founder of the networking group Port City Young Professionals (PCYP).
After seven years of hosting monthly socials, PCYP this year became an LLC and in March launched an app connecting members to each other, nonprofit opportunities, job openings, as well as local events and businesses.
"The launch of the mobile app has expanded the capacity from a 'club' into a powerful marketing medium for young professionals and businesses targeting our audience of young professionals," Curry says. "As a result, the group has more than doubled in size and is able to host a variety of social, philanthropic, and educational events."
Also, Curry, as president of Good Friends of Wilmington, oversaw the organization's nineteenth annual luncheon with a record-breaking year for fundraising.
Elissa Edwards (Arts, 2013)
Edwards continues to choreograph and teach master classes at studios across the U.S. and Canada. Her choreography has also won first place at national dance competitions in Las Vegas every summer.
Edwards also was selected as an ACE awards choreographer two more times. She choreographed Memphis at Thalian Hall last winter and is now the choreographer for City Stage's production of Sister Act.
Students of Edwards and her partner, Lindsey, have won scholarships into prestigious dance schools in New York City such as Marymount Manhattan College and Joffrey Ballet School. Their studio has been selected as one of the top 50 studios in the U.S. for the past three years.
Carla Turner (Health, 2012)
Since winning in the first year as the Health award recipient, Turner, personal health services manager, has been accepted to the LGFCU Fellows Leadership Academy at the School of Government at UNC and completed a two-week course in leadership; assisted with planning a new public health clinic at the health department's campus; received a Stellar Award for Professionalism from New Hanover County for implementation of a naloxone distribution program for the department and county sheriff's office; and completed a project management course through a New Hanover County/UNCW collaboration.
"I work with my supervisors to participate in a community service opportunity each year," Turner says. "So far, we have put together care packages for residents at a local facility, put care packages together, and distributed them to local homeless population in downtown Wilmington, (and) volunteered at the Food Bank of Central & Eastern North Carolina."
Susan Savia (Arts, 2012)
"Since receiving the award in 2012, rather than simply retire at sixty-two, I have been motivated to remain engaged and active in the community and 'push the limit' of what is possible for an elder female musician," Savia says.
She continues to perform regularly, including historical and educational concerts and organizes listening room concerts. Her program, Happy Little Singers, which is an early-childhood movement and music program is hitting its sixth year.
She just completed a two-year program as a certified music practitioner in the Music for Healing and Transition Program, providing bedside in-the-moment therapeutic music to patients in hospice and hospital care.
She is a member of Grandmothers for Peace, which hosts an annual International Day of Peace celebration, and volunteers at Bellamy Mansion and WHQR.
LaRaisha Burnette (Arts, 2015)
When Burnette won the Arts category it was a talented performer in area theater productions. Since then, she was named as center services coordinator for CFCC's Wilson Center.
"The award gave me more credibility in the business world and allowed (me) to start the Wilson Center's in house concessions operation," she says.
On the performing side, she won two awards for her portrayal of Billie Holiday in Lady Day at Emerson's Bar & Grill.
"This summer, I helped to found and launch a new theater company called Second Star," Burnette says. Our big focus will be education and inclusion in the Wilmington theater community as well as a full season of shows."