Vegan en Vogue
Interest and activities grow for Wilmington Vegan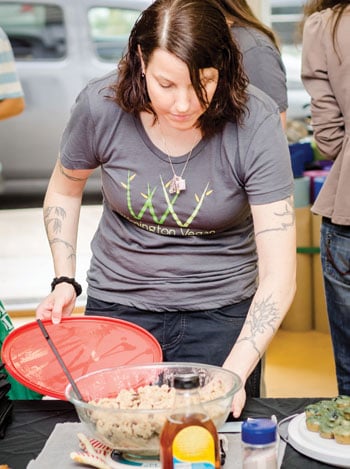 While veganism isn't for everyone, for some it's a natural choice. SUE CAG, creator of the local group Wilmington Vegan, found the choice to give up all animal products – including fish, dairy, and eggs – from her diet an easy decision.
"I went vegan for ethical reasons," Cag says. "For me it was intuitive … even in my forties, my veganism continues to expand as I'm always learning and growing and trying to live a mindful life of least harm and most joy."
Wilmington Vegan's mission is to provide community support to vegans and those just starting to check out it out. Cag originally started Wilmington Vegan in 2011 because she wanted to meet other vegans in the area. First starting as an online social group, it then evolved to a place where vegans could get together for potlucks.
"Since then it has become so much more," Cag says. Along with potlucks, the group now also stages "carrot mobs," group get-togethers at local restaurants as a way to show owners there is a demand for including vegan dishes in their offerings.
The Supper Club Potluck and Carrot Mob are now monthly events. The group also hosts cooking demonstrations and grocery store tours. Its Facebook group, which as more than 600 members and is a public group, includes pics of members' home meals, local restaurant recaps, and shopping advice.
"I never anticipated there would be so much interest," Cag says about the group.
Wilmington Vegan participates in outreach events, such as the Wilmington Earth Day Festival, Conscience Fair, and Fire in the Pines Festival, Cag says. Members have started many ongoing projects, and have recently released the 2015 Wilmington Vegan Dining Guide.
"The first guide was a historical first for Wilmington, and we had a sold-out vegan dining guide release party with numerous dishes donated by restaurants," she says.
Wilmington Vegan publishes the local vegan guide that includes community information, restaurant listings, business listings, grocery stores, blogs, chefs, farmers markets, community organizations, and wellness services. Restaurant listings for Wrightsville Beach, Carolina Beach, Hampstead, Surf City, Jacksonville, and Southport are also included.
The guide not only serves as a resource for the common question of where to eat, but it also facilitates communication with restaurants and businesses, leading to more choices in town.
This year's updated dining guide, which came out in April, is the biggest yet with 106 listings. Besides being available in book form around the area, the guide also can be read online at Wilmington Vegan's website (wilmingtonvegan.com).
To be included as vegan-friendly restaurants in the guide, they have to have vegan items on their menus in addition to salads and be approved by Wilmington Vegan members.
"Our group has grown tremendously, and there is so much local interest in veganism," Cag says, adding that she has seen more resources available to vegans than ever before in the area.
Still, she says, there are other issues that can continue to be addressed at the local level.
"First, we need awareness regarding how our choices impact our planet," Cag says. "Living mindfully includes awareness about issues such as consumerism, population, and human rights."
A second issue, Cag says, is to increase access of healthy food options for low-income families.
"Perhaps we could start a vegan food bank, but we're going to need a lot more help," Cag says.
The group also has a vegan mentor program to help local vegans get started. Those interested can fill out the form online and find tips for meal planning, where to buy certain items, or gain general support.
"A mentor might sit down with a mentee and talk about what it means to be vegan – to live a thoughtful,
compassionate life, by taking animals, the planet, and humans into consideration wholly," Cag says.
Cag feels that she couldn't have pulled off the group entirely on her own.
"Caitlin Campbell inspired me to continue with Wilmington Vegan when I got discouraged and wanted to quit," Cag says. "We wouldn't have a local dining guide or any of the important projects that we have now if it weren't for her pep talks and lifting inspiration."
The group hosts its Wilmington Vegan Supper Club Potlucks at 6:30 p.m. on the first Thursday of every month at the SEACC Community Action Center, 317 Castle Street, rotating themes such as "Southern style" or "breakfast for dinner."
A bake sale and vegan lending library, with cookbooks and other media to swap, are also available at each potluck.
To view more of photographer Erik Maasch's work, go to websta.me/n/emaasch