Valentine's Dinner at Home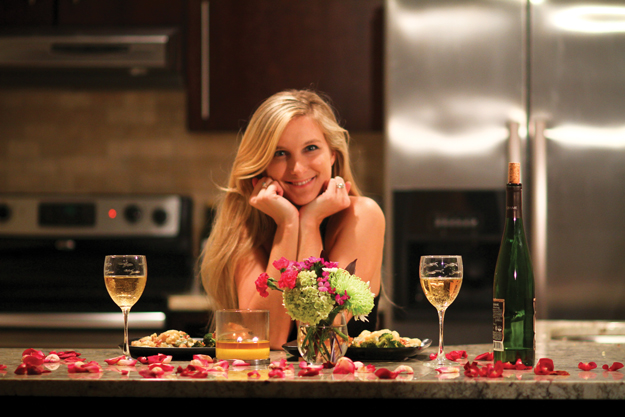 The pressure's on for Valentine's Day.
Make dinner reservations; buy flowers, candy, and wine. You can have all that in your own home without sharing your intimate conversation with the next table, while eliminating the crowds and the need for child care.
No gourmet chef in the house? No problem. With a little planning, you can have an elegant candlelight dinner all set when your date walks in the door.
Or better yet, post this on the fridge to hint that your special someone can make the arrangements instead.
Someone's in the kitchen
Personal chefs shop, cook, and clean up – or leave if you want privacy – and they are unflappable when building custom menus.
Many accommodate diet restrictions, including vegetarian, vegan, low sodium, gluten free, heart healthy. It's all in the planning, and each of you can have a different menu. Call at least a week in advance and expect a charge of $75-$200 or more, depending on the menu or additional services.
Linda Mitchell of LINDA'S CUISINE PERSONAL TRAVELING CHEF (264-3910) relies on her mother's recipes for her signature dishes but can prepare any requests.
"My mother created her own cookbook with recipes directly from Italy," says Mitchell.
Three, four, or five course meals can include assorted cheeses for an appetizer, spinach salad, chicken Parmesan, and cheesecake, for example. She'll even pick up the wine.
Lori Eaton of EATON AT HOME (524-5400) travels around the country and world serving her clients, so her schedule fills up quickly. She suggests that along with candy and flowers, give a gift certificate for the menu and date of your choice.
She's fine if you want to mix it up like the couple that had a Low Country appetizer, Thai soup, Indian entrée, and tiramisu for dessert.
Eaton works with clients to cook for special events.
"One man wanted to propose, so he went for a run, then bought the wine and flowers. He came home, and I had it ready. The dessert was the ring. I've arranged for massages for other clients, and I cooked while the masseuse worked.
"Every day is a different day at the 'office', " says Eaton.
Danielle Cousler of A THYME SAVOR CATERING AND MARKET (262-2962) custom designs menus to include such dishes as braised short ribs with a chocolate sauce or coq au vin.
Cousler shops local for vegetables, meat, and fish.
"The fish goes off the boat and onto your plate," she says.
Thyme Savor also provides catering services, so Cousler and her team can deliver and set up a dinner in your home or elsewhere (on a yacht, perhaps?), or leave instructions for heating and let you set the scene.
Bring it home
If setting up a prepared dinner sounds good, pull out a tablecloth and candles and check with Christi Ferretti at PINE VALLEY MARKET (350-3663) or Christy Lassiter and Ian Pause at WHOLE FOODS MARKET (777-2499) about bringing home dishes.
Wine and other goodies can be purchased from the vendors as well. Expect to pay $20-$45 for three to four courses, depending on choices. Call four to five days in advance or stop by on February 14 to choose from ready-made selections.
Pine Valley Market offers package dinners for two that include appetizer, salad or soup, main dish, and dessert. From a set menu choose such dishes as braised meats, heart-shaped crab cakes, lobster appetizers, vegetarian dishes, and fresh bakery items. Fresh meats are available to cook at home, and prepared vegetables are on hand, but the market will close by 6 p.m. Valentine's Day to prepare for dining-in at the Market or at the Cameron Art Museum.
"The beauty of Valentine's dinner is that it doesn't have to be the elegance of what they're eating, but that it's freshly made and good," says Ferretti.
Whole Foods Market Valentine's dinner packages include salad, a meat, and two sides. They can accommodate any diet requirements with fresh ingredients and such entrees as beef tenderloin and Cornish game hens, or a vegetarian selection. Call to arrange for specific requests and pick up flowers and wine when you go, or choose from a variety of prepared foods in the case.
"Everything we prepare here is good," says Lassiter.
Finishing touches
A toast of bubbly wine with chocolate-dipped strawberries makes an impressive finish.
Ernie Manzella and his wife, Carole, of DIVINE WINES (791-1251) can give a lesson in choosing sparkling wine.
Champagne is a bubbling wine from the French province by that name, but there are sparkling wines from many countries, says Manzella, including cava from Spain, Argyle from Oregon, and Prosecco from Italy.
While champagne can cost $50 or more per bottle, other sparkling wines can run $9-$10. Of the different styles, brut (dry), extra brut (even drier), blanc de blanc (white grape), and blanc de noir (red grape), a sparkling rosé is best with chocolate, says Manzella.
To view more of photographer Keith Ketchum's work, go to www.keithketchum.com.