Updated Screenings
Mammogram technology continues to improve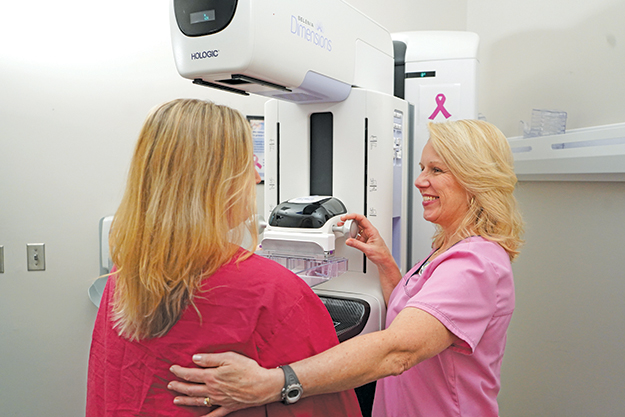 You've seen the pink ribbons and the "Save the Ta-Tas" T-shirts. Nearly all of us know or love someone who has been affected by breast cancer.
Thankfully, as advancements in technology and medicine increase, so have survival rates – throughout which time, however, one thing has stayed the same: Mammograms are still considered the best tool for breast cancer screening.
Decades of research show that women who have regular mammograms are, according to the American Cancer Society, more likely to find breast cancer early, therefore less likely to need aggressive treatment and more likely to be cured.
To perform a mammogram, a technologist uses a machine designed to look exclusively at breast tissue. The machine takes low-dose X-rays to produce pictures of two different angles of each breast. Because the X-rays don't pass easily through tissue, the machine uses two plates that compress or flatten the breast. Unfortunately, this "compression" has a reputation for causing discomfort.
"I think there's a stigma behind having a mammogram," says LINDA MARRYAT, the coordinator of mammography at New Hanover Regional Medical Center, with more than twenty-five years of experience in the field. "If you talk to your grandmother, they expect it to be so painful and terrible, but what I tell my first-time patients is, 'If I hurt you, you tell me, and I'll reposition you.'"
To get the sharpest picture, the patient must remain still for only a few seconds to avoid blurriness in the image. The patient might be uncomfortable, but the procedure shouldn't be painful.
Technologists look for symmetry among the breast tissue, that is, irregularities in the breast or differences in the right versus left.
"I tell patients to not be alarmed if you get a call back for additional pictures," Marryat says. "If you don't have anything to compare it to, we may have to come back to determine what is normal tissue for you … what we're looking for is subtle changes."
In only the past few years, 3D technology has caught on to capture even more precise imaging.
"With the 3D technology, we can see the breast tissue in 1-millimeter increments," explains SANDY LILES, a mammography technologist since 1983, currently at Novant Health Brunswick Medical Center. "It's very thorough, and it increases the ability to visualize architectural distortion."
The 3D machines have been particularly beneficial in screening patients with denser-than-normal breast tissue.
"It's almost like flipping through pages of a book," Marryat says. "It reduces false positives for patients."
Liles' Novant Health office acquired its 3D machines in the summer of 2017, and NHRMC added them in October 2016. Now, both offices consider the 3D technology their standard of care, although 2D images are available, and it is still the patient's choice which test to receive (usually dependent on insurance).
"The patient experience is the same," Liles says. "Sometimes when (patients) first come in and hear it's 3D, they think they won't be compressed anymore. We tell them that the process is the same. We're still going to take four pictures – the only difference is the way the machine takes the images."
Once the pictures are developed, a radiologist interprets them. The patient's provider is then sent a report from the radiologist. In some cases, additional screenings or a biopsy may be required.
"It's very important that ladies know that potentially their early diagnosis was because we found it on a mammogram," Marryat explains. "Don't not come because you're afraid."
Marryat shares that more than 85 percent of patients who are diagnosed have no family history, yet there is a 99 percent chance of survival if cancer hasn't spread.
"Self-breast exam is a great tool, but … there are things growing in your body even if you can't feel," fellow mammographer Liles says.
Both Novant Health and NHRMC follow the American College of Radiology (ACR) standards and recommend that annual screenings begin between age thirty-five and forty, or sooner if family history exists.
Because of 3D technology, detection of breast cancer among all ages has increased by about 40 percent.
Mammographers continue to stay up-to-date on industry updates to improve detection. Both NHRMC and Novant Health are accredited by the ACR, following Mammography Quality Standards Act regulations.
"We're helping the community stay healthy, and we're always the champions of early detection," Marryat says.
NHRMC, alone, performs more than 22,000 mammograms a year and, with Marryat's guidance, has improved access and convenience for local women. As major supporters of the Pink Ribbon Project, NHRMC raises money to provide free mammograms to underserved women as well.
"It's so important," Marryat says, "that we as women take care of ourselves."
Want more WILMA? Click here to sign up for our WILMA newsletters and announcements.