Untappd Potential
Emma Johnson's role grows with the expanding startup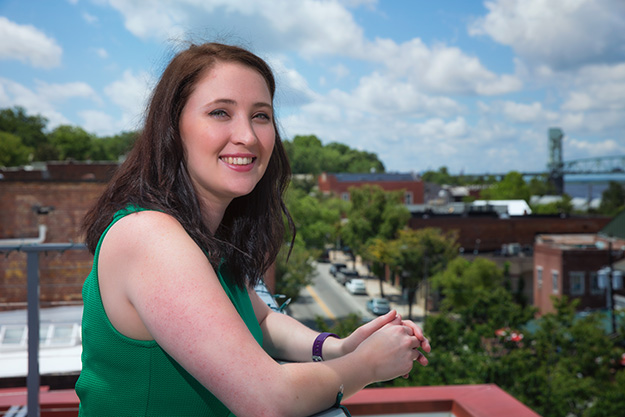 EMMA JOHNSON is allergic to hops, a main ingredient in beer. This would not be especially notable, except for one fact – she's the director of customer success at Untappd, an app that helps people discover and share their favorite beers. Johnson's inability to drink hasn't held her back. Over the past two years, she's steadily risen in the ranks of the Wilmington-based tech startup, finding passion and purpose with some of Wilmington's most intrepid entrepreneurs.
A graduate of the University of Colorado Denver with a degree in film and television writing, Johnson moved to Wilmington in 2012, hoping to break into the film scene. She quickly realized that the industry wasn't a good fit and started working in restaurants instead.
"I like to talk to and understand people," she says, "and restaurants give you a chance to meet people from all walks of life."
When a social media manager position opened at Next Glass – the company that would eventually merge with Untappd – Johnson's people skills helped her land it. After that, it was a quick pivot to customer support, where her strong writing and communication skills helped the company develop a voice and persona.
"Working for a tech start up is exciting. You get more opportunities, you wear a lot of a hats, and there isn't a ton of bureaucracy. Everyone is excited to be there and we work a lot, but it's worth it because we're building something," she says.
When Next Glass decided to partner with Untappd in early 2016, Johnson was asked to develop and lead the customer support strategy for a brand new audience: business owners.
"The chance to build Untappd for Business from the ground up and create something totally new was an incredible opportunity," Johnson says.
As the director of customer success, Johnson manages a small team with a big job – ensuring that Untappd's five million users are satisfied with the product and continue using it. Some of those people are the individuals who drink and rate beer, socializing with their friends and earning badges along the way. The rest are businesses, such as bars, breweries, and bottle shops that use the app to connect with their customers.
"There's an art to writing for customer support," Johnson says. "You communicate differently with a customer who's really smart and savvy than you do with one who's confused or lost. Same thing with a restaurant owner versus a brewer. In that sense, it's both a creative and technical writing challenge, which I enjoy."
Other challenges Johnson faces are less obvious. As a young woman leading a team in a male-dominated industry, she struggled at first. "I've had to learn to be more assertive and say what I think, rather than beating around the bush," she says.
Overall, she's glad for the chance to represent women in an environment where they are too often missing.
While startup culture has a reputation for being all-encompassing, Johnson has found creative ways to strike a work-life balance. Not surprisingly, there are apps for that. One, called Streaks, allows users to make goals and rewards them when they achieve milestones or set records.
"I make one goal a month, and it's always something just for me," she says. "One month, I wrote every day, another month I made reading a habit."
This helps her avoid burnout and set aside time for personal goals.
As for her professional goals, the startup life has taught her to keep an open mind and be ready for anything.
"Untappd is still growing," she says. "I hope to keep growing alongside it."
To view more of photographer Chris Brehmer's work, visit chrisbrehmerphotography.com.