Unleashing Positive Change
Barbara Raab gets 'pawsitive' results from her organization's efforts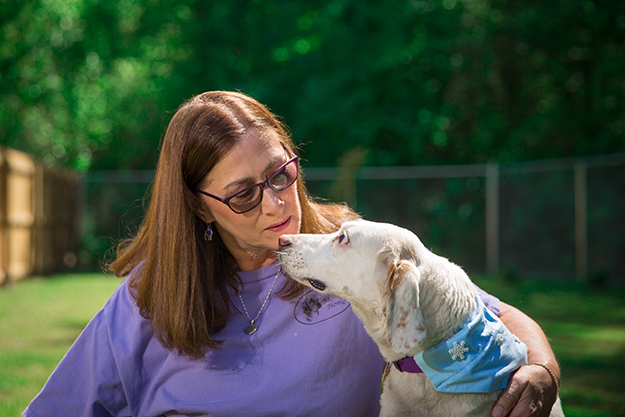 Barbara Raab recognizes potential in people and animals. For over a decade now, Raab has served as the dedicated president of Monty's Home, a 501(c)3 non-profit organization she co-founded in 2007. Based in Burgaw, Monty's Home improves the lives of animals through a series of initiatives, including the Pawsitive Partners Prison Program (PPPP), which helps shelter dogs become adopted through a seven-week obedience training led by inmates at Pender Correctional Institution.
Raab says that the program is mutually beneficial; shelter dogs find a forever home and the inmates training them gain valuable skills and a sense of pride.
"They feel like they're giving back to the community," she says. "Some are serving life in prison and say, 'I'm never gonna get out of here, but at least my kids can see I'm doing something worthwhile."
For others, the experience helps them find work upon their release and also serves as "really good rehabilitation," since they have to learn a whole new way of relating through the positive reinforcement they practice with the dogs.
Raab explains that inmates cannot use force, punishment, or "archaic" methods such as pinch or electronic collars to train the dogs. She shares that contemporary behavior studies show that animals want to please people, and forming a partnership with them using redirection and rewards is the most effective – and humane – way to train them.
A lifelong dog lover, Raab was introduced to the dog training world about 20 years ago when she was working as an ultrasound technician and had just added another pet to her family. Raab could tell from the start that her new golden retriever named Vermont's Golden Boy – Monty for short – was special. She enrolled him in puppy obedience classes and he responded so well that she moved him up to beginner classes and then advanced lessons that prepared Monty for American Kennel Club competitions, in which he participated and won obedience titles. Over time, Monty became certified as a therapy dog and did much pet therapy work, as well as Pet PR.
Raab greatly enjoyed the process of working with Monty and actively learned as much as she could about the field. Eventually, Raab added an extension on her home for a dog-training center and around 2003, she left her position at the hospital to focus on turning her side job into a full-time career, teaching group and private dog training.
When her beloved Monty died from cancer in 2006 at the age of 7, Raab knew she wanted to do something meaningful in his memory.
Over the next year, Raab and a group of like-minded people she knew worked together to form what is now Monty's Home, an entirely volunteer-based organization with a core of about 50 volunteers.
Monty's Home's programs include the Rainbow Bridge Journey, which helps pet owners cope with end-of-life issues, providing referrals for in-home animal hospice care and pet cremation services, as well as grief support for the owners.
Their Pet Education 101 Program teaches students about respectful and responsible pet ownership with the goal of raising young people who treat animals with compassion.
Raab says there's a widespread misconception that rescuing dogs is the solution to keeping them out of shelters. Raab says that while adopting is important, it's not a realistic way of stopping the massive turnover and overpopulation in shelters or the steep euthanasia rates in the country. She says that the goal needs to shift to spreading awareness and education about the mistreatment and abandonment of dogs.
"People have to learn that dogs are beings, not garbage to be thrown away," she says.
Dogs that do end up in shelters often exhibit poor behavior in response to their circumstances, making it even harder for them to find a permanent home. Ten years ago, in a quest to find a way to change that, Raab learned about companion dog prison programs in North Carolina and other states and looked into starting such a program locally. In 2008, in conjunction with Pender Correctional Institution, Monty's Home launched the Pawsitive Partners Prison Program, the first program of its kind in southeastern North Carolina. A decade later, the PPPP has trained between 250 and 300 dogs that have all been successfully adopted.
Raab explains that Monty's Home selects dogs from local shelters that demonstrate potential to go through temperament testing that determines their eligibility for the program. Twenty-five dogs are chosen for the program each year, and five are trained at a time. Five inmates make up the primary training team, with each assigned to a dog, and two other inmates are hired to help. The trainers spend five to six hours a day, seven days a week with the dogs, teaching them, socializing them, keeping them groomed, facilitating their veterinarian care, and more. They also attend weekly classes.
To become a trainer, inmates go through an application and interview process. To maintain the position, they must remain infraction-free. The current senior trainer has held the role for six years.
During the program, dogs are matched with families who've applied to adopt them. At the end of the seven weeks, a graduation ceremony is held at the prison, wherein the dogs wear graduation caps with tassels, and Pomp and Circumstance is played.
Within two weeks, the inmates are given group of new dogs to train.
Raab aspires to open a facility for housing and training shelter dogs and providing affordable educational opportunities. One of the biggest challenges Monty's Home faces is raising enough money to execute new projects, while also maintaining sufficient funds to care for the dogs, especially when they get sick.
"It's a juggling act," says Raab, "but it's all made possible through the hard work of devoted volunteers and a supportive community." With the help of Monty's Home's new CEO, a dog named Snowy, the group will continue to put its best foot (and paw) forward to make a difference for dogs and help people in the process.
To view more of photographer Chris Brehmer's work, visit www.chrisbrehmerphotography.com
Take 5 with Barbara Raab
WHAT INSPIRED YOU TO BEGIN WORKING WITH ANIMALS?
I've always loved and owned dogs but when Monty (her late, beloved canine companion) came along I knew my destiny was to do more. Monty and I, while visiting my dad at the hospice care center, were asked to visit a patient. Monty went over to the bed and laid his head next to the woman's hand. After a few moments she reached out and stroked his fur. Later he was certified as a therapy dog and I became an evaluator to certify teams to do this wonderful work. After six years, Monty was diagnosed with a malignant heart tumor. Losing him was the seed that created Monty's Home.
WHAT DO YOU CONSIDER TO BE YOUR GREATEST ACCOMPLISHMENT?
Finding the world of positive reinforcement training. I started researching and found the basics of clicker training, following the methods of those who train dolphins with the sound of a whistle: no force, punishment or pain. This concept I've used successfully training dogs for decades, as well as 10 years in our prison training program.
WHAT'S NEXT FOR MONTY'S HOME?
Goals for Monty's Home are two: A rescue and training facility outside the prison to increase the number of shelter dogs successfully adopted, and a dog training and education program for the public on positive reinforcement training to build that partnership and trust between human and canine as it should be.
WHAT IS SOMETHING THAT FEW PEOPLE UNDERSTAND ABOUT YOUR WORK?
Most of what we do is focused on the dogs rescued. The inmates that work with the dogs are also being rescued in a different way. They are learning new skills, teamwork, self worth, trust and are given a chance to give back to the community.
HOW CAN PEOPLE HELP SUPPORT THE MISSION OF MONTY'S HOME?
Monty's Home is 100 percent volunteer. For 10 years we have maintained a 100 percent adoption rate of our graduates. All funds to care for the dogs come through donations and fundraising efforts. How can folks help? Donate, volunteer, adopt! www.montyshome.org.