Ultra Course
50K race and 50-mile team relay tests runners' mettle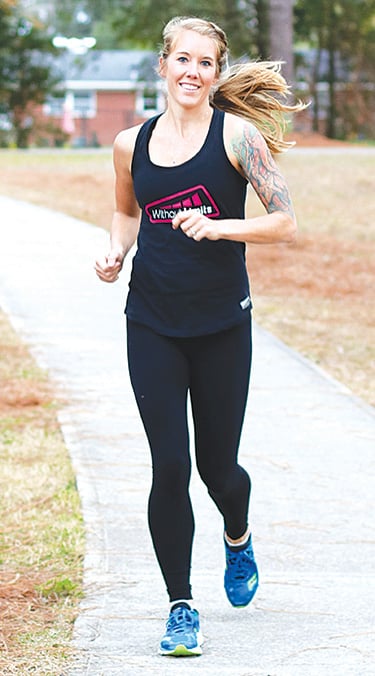 Hundreds of runners across the Cape Fear region will ring in 2018 with a challenge that pushes them to the limits.
On January 13, about 750 runners will take part in the Wilmington Health Foundation's third annual SOUTHERN TOUR ULTRA where participants can run a 50K by themselves, which is roughly 31 miles, or sign up as a team for a 50-mile relay. During the race, participants could face freezing temperatures as they traverse the trail of underdeveloped land near Scotts Hill in an area President George Washington once forged in 1791.
"You run through two tracks, you cross logs, you go along the Intracoastal Waterway in a very natural setting, the way it used to be. And then, you go by Carolina bays and swamps. So, you get a lot of natural habitat out there. It's pretty cool. It's an area that's really never been touched," describes TOM CLIFFORD, race director for the ultra and founder and coach of personal training group Without Limits.
ANGELA MIDGETT is training to compete in the Southern Ultra for a second time. As a national level sprinter before the age of ten, Midgett has competed in short races, marathons, and everything in between. But, nothing compared to running her first ultra.
"The swift change in those wooded trails for six hours was life turning. From the friends you already knew, to the ones who cheered you past slips and falls, to that last step over the finish line when you look at the ones you finished with. And, you feel, that without any words, it was a job well done," says Midgett, a mom of three and owner of B.A.N.T.A. Fitness Studio in Wilmington.
"Success for me this year has nothing to do with winning. It is all about how well I push through the entire process, even with my current injury."
Midgett fractured her right foot in two places and pulled an ankle in early November. To stay strong, she's added some different components to her training such as yoga and gymnastics, aimed at increasing flexibility and reducing back pain. If her injury does not heal fast enough, she will compete in the 50-mile relay.
"The hardest part is always getting up and pushing through yesterday's pains and bruises. Or even not getting up when you're hurt and need rest," Midgett says. "With some practice runs as long as marathons in the woods with no aid station or cheering sideliners, I quickly learned the gift is the knowledge gained about myself and my closeness with God in every practice run. It means a lot to me to be able to do this here in my hometown."
During the relay portion of the race, Clifford said some teams of ten will be mixed gender, but other teams are made up entirely of women. Some teams are made up of mom competitors. Teams must run a total of 50 miles, meaning each competitor will complete five miles.
"So there's a lot of all-women's teams. They want to go out there and just have fun with ten females. And then, their husbands are either watching the kids, or they have a team," Clifford says.
The team aspect of the ultra relay attracted BRITTANY PERKINS to the race, who is running a leg for the third year on team Monkey Butt. Her team won the relay the first year but not last year. In 2018, team members hope to bring home the $800 prize and traveling trophy, which is engraved with the winning team's name and passed along each year.
"I love racing and competing, so it's nice to get a group of friends and teammates together to try and win some money," Perkins says. "It's also not just your average race. There are time 'handicaps' for age and gender. So essentially, if you have fast, older women, you'll have a stacked team for this."
As a former cross country and track runner at East Carolina University, Perkins is accustomed to competing in long distance races. She typically incorporates the relay into her sixteen-week marathon training plan and runs the course the day before.
"Team captain Tay expects us to win. I don't want to let him down. So, that's how I'll measure success. We have a group of strong runners – both mentally and physically. So, I'm hoping we can all show up and have a good performance race day," Perkins says.
After crossing the finish line, participants and their support squads can celebrate with a daylong bonfire. They can also camp out before and after the race.
"We kind of call it the Woodstock of Wilmington. We play a lot of '70s and '80s classic rock, country. It's not the same kind of vibe as a typical road race. It's very laid back," Clifford says. "People get really excited. Some teams are very competitive, and then some teams are just totally laid back, and they're grilling all day long."
To view more of photographer Terah Wilson's work, go to terahwilson.com.