Turning the Page
Independent bookstores find their place in the competitive landscape through community ties and personal touches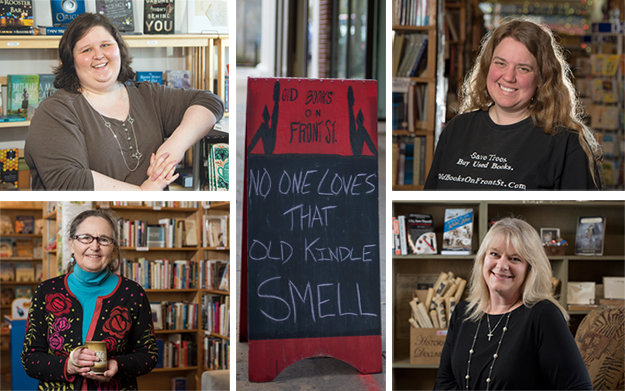 "I'm looking for a proper bookshop," recently said a friend who moved here from England.
Fortunately for bibliophiles who avoid chain stores and online shopping, the area has several independent bookshops, including four owned and managed by women.
KATHLEEN JEWELL , owner of POMEGRANATE BOOKS; JENNY HAMM, owner of the ISLAND BOOK SHOP; CHRISTINE GREER, owner of TWO SISTERS BOOKERY; and GWENYFAR ROHLER, owner and managing partner of OLD BOOKS ON FRONT STREET all seem to agree on one thing: It's the sense of community and connection that creates loyal bookshop customers.
Dedication to area businesses, local author events, personalized shopping, and the love of a book in hand keeps customers coming back.
Drawn by the love of books, each of these shop owners took a leap of faith that would have given pause to many others.
In 2005, with grown children, Jewell had the freedom to open the shop she'd always wanted. The closing of Bristol Books created an opportunity for her to buy fixtures and settle into the now one-hundred-year-old house on Park Avenue.
"I wanted something midtown, a great place to be, with a neighborhood feel, other businesses around, near the college," Jewell says. "People look for bookshops. Before we decided to move here, I wanted to see the bookshops."
"Books are an emotional thing. You're not selling widgets; you're selling something people have an emotional connection to," Jewell says.
When the economic downturn came in 2008, Jewell says she was too stubborn to quit. Competing with Amazon and national stores, however, takes creativity.
"It is a challenge because we can't beat the price or the speed, so you have to offer something else," Jewell says.
Now, with an upgraded coffee shop, author events, local publications, writing groups, unique cards, a used-book section, and proximity to the university, the shop appeals to a variety of customers.
Jewell asks customers about the books they have read so she can help them choose the next one, and she stocks what her customers like. Pomegranate Books is present at events at churches and temples or the university.
Jewell brings books related to the event and makes connections there.
Rohler also is adamant about competing with the big guys.
"This is war," she says, "and Amazon is not paying for this building and paying taxes for this community. I'm upfront about it."
Her relationship with the community began even before her family took ownership of the store. She grew up shopping at Richard Daughtry's bookstore on Front Street since after it opened in 1982.
"Almost thirteen years ago, Mr. Daughtry called my father and said 'I want your daughter to buy my bookstore,'" Rohler recalls.
While that seemed to come out of nowhere for Rohler, the people around her knew it was meant to be. Her parents, now deceased, were partners with her from the beginning. She feels their presence in everything she does, so she continues to use the title, managing partner.
In 2010, the building at 22 North Front Street where the store was housed was condemned, giving them thirty days to move about 150,000 books. Rohler's mother had passed away suddenly in 2009, so her father put up her mother's retirement and insurance money to make a down payment on the store's current space a few blocks away at 249 North Front Street.
The magnitude of moving the inventory was overwhelming, so Rohler put out the word. She needed boxes – lots of them – and help moving.
"I thought two or three people would come; over 200 people showed up," Rohler says. "All I did was cry, and by four o'clock the building was empty."
That was when Rohler realized she had an obligation to something bigger than herself and her family. Their goal was to create a unique experience for the community.
The shop is lined with books. There's a literary jukebox and a Vend-a-Poem machine that has played a part in the engagement of three couples.
"To be included in someone's life like that is special," Rohler says.
She hands out neon green stickers that say, "I supported family business today!" to make people aware that spending money with them serves a bigger purpose.
Local themes and authors also are popular at Hamm's shop in Carolina Beach. Being two blocks from the beach, she gets a steady flow of customers looking for beach reading, but demand for nonfiction about the area, history, mythology, and cookbooks also is good, she says.
She stocks work by local authors, and many of the books are signed. Her section for younger readers is ever expanding, as family members want to take a gift to the kids from their vacation or to entertain them on rainy days or days when they are sunburned and need a day off the beach.
With the popularity of young adult fiction, such as the Harry Potter, Hunger Games, and Twilight series, it's taking off.
"Kids want to read those to talk about with friends. They've become cultural elements," Hamm says.
Now at the end of her seventh year at the store, Hamm recalls going into business by chance. She was doing office work at the time, not involving the creative writing and English focus she had in college. When the opportunity came up to open a store, she snatched it.
"I went from 'what if ' to running a bookstore. I thought I would do this two or three years, but I've loved it," she says. "I have so much fun with the customers."
When she bought it, the space was used by a monthly magazine publisher (Snow's Cut Monthly), with new and used books for sale in the front. The configuration is not conducive to group events, so Hamm depends on content to draw return customers. She also offers a trade-in opportunity for customers to get credit by bringing in used books.
With the seasonal flow of beach tourists, it gives her time to close in January and February to make repairs and do inventory.
"Big-box stores have focused on online sales and have put brick-and-mortar stores out of business, which originally put the small stores out of business," Hamm says. "I have found to my great joy, that people who love books, love the character of a bookstore, and they love the opportunity to shop small and support local stores. If you love books, you'll buy books from just about anywhere but especially from a person who is trying to bring that forward into the community."
Greer, coming from a background as a critical care nurse, hospice nurse, and full-time faculty at a community college was ready for a change. Her husband died last year, and she continued the nursing career she loved until she and her daughter saw a sale announcement for Two Sisters Bookery.
"I'd always said I wanted to own a bookstore. The first time I drove into Wilmington was to meet the broker and see the store," says Greer, who moved to the area from Fredericksburg, Virginia. "I fell in love with it. I've found peace and comfort in books."
Since taking over ownership last summer of the store, located in The Cotton Exchange, Greer has enjoyed meeting people from all over the world. As the fifth owner of a bookshop that has been there for forty years, Greer sees customers returning to a favorite spot, as well as visitors attending events and conventions in downtown Wilmington.
Two Sisters Bookery also has three book clubs – two in the store and one online – and is supportive of local authors.
"We are like personal shoppers," Greer says. "If you can tell us your last favorite book, we can help you find your next book."
Perhaps because of those personalized touches and community ties, the number of independent bookshops is up 35 percent in the U.S. since 2009, according to the American Booksellers Association.
"There's always going to be a need and desire for the small bookstore," Jewell says, "and as long as they are around, we'll be around.
To view more of photographer Michael Cline's work, go to www.michaelclinephoto.com.
Comments
comments