Tuned In
Sandra McClammy's reach extends over radio airwaves and community ties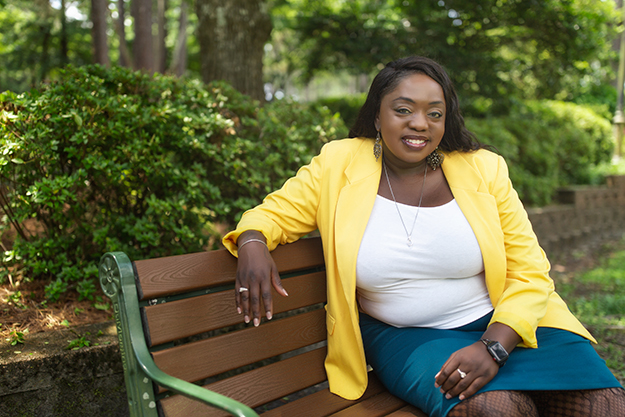 SANDRA MCCLAMMY, who grew up in Wilmington, is proud of her roots in the area as well as her ties to New Hanover High School and University of North Carolina Wilmington. Those ties have helped shape her career and work in the community.
McClammy became involved with the music industry early in her career. She started as a part-time DJ with Coast 97.3 with one show on a Saturday afternoon. She then began filling in on the weekends and her involvement with the station grew as she continued with the same station for twenty-one years.
The past eight years she has been at the helm of 97.3's midday show as the "The Mid-day Miss." In addition to being an on-air DJ and personality, McClammy also hosts shows, produces music, and even spins records.
Building upon her love for the music business, McClammy became involved with the Coalition of Core DJs, which she describes as a highly regarded professional network of DJs. The network is vast and is the largest in the US. Here in North Carolina, McClammy is the only female DJ in the group.
"It is a very male-dominated industry," she says. "Oftentimes, when people think about females in the industry they think of models on posters. They don't see women as listening to music, producing music, being a DJ, being hands-on. They think we have smaller parts to play-but really we do have a bigger part."
McClammy has a strong grasp on her leadership role as a woman in the music industry.
"I help prove to many that females, like myself, are very talented," she says. "It feels good to be in a position to empower some young ladies to do the same thing I do. If they're thinking, 'I'm a girl. I may not be taken seriously.' Hopefully, they'll punch through that and want to do it, too."
Taking on leadership roles and being involved in her community are paramount to McClammy.
She recalls a day when she was speaking with Phillip March, who at the time was the station's program director. He was speaking with McClammy about ways to fully utilize her talents and recognized her involvement with the community. (She had just been awarded a YWCA Women of Achievement Award for her community service.)
He asked her how she'd like to be involved with more station events and what ideas she may have for involving the radio station with the arts. During the conversation, the idea for a Poetry Jam was born.
Fast-forward and McClammy has helped organize and co-host the event now for over twelve years.
"After two to three months I'd get the same question: 'When is the next poetry jam?' People never seem to grow tired of it," she says.
Currently, the Poetry Jam is held four or five times a year at several venues. Last year, UNCW organizers inquired about having the Poetry Jam involved with the school's annual Lumina Festival of the Arts.
"They [UNCW] liked it so much, they asked us if we would become a permanent fixture," McClammy says.
This year, the Poetry Jam is featured as part of the festival's July 12-29 lineup. Proceeds from the Poetry Jam event will be donated to the Black Arts Alliance.
"I believe I thrive in my community because of the education I got at UNCW," says McClammy, who earned an undergraduate degree in English literature and language as well as a master's degree in liberal studies from the school.
She also served on the university's Alumni Association Board of Directors and continues to work to create homecoming events that attract African-American graduates and alum to come back to UNCW.
"I want to help connect with alum and ask them to invest their time and come back and then encourage them to become legacies," she says.
McClammy lives out her legacy as well through education. In recent years, she began teaching courses at UNCW and at Cape Fear Community College. Her classes span topics from critical thinking to Southern culture. In particular, she enjoys delving into Southern history and sharing how the South helped shaped national laws and amendments.
"I know I'm in the business I'm supposed to be in," McClammy says. "I love music. I love being in education as well. I'm blessed to have two jobs doing what I love."
To view more of photographer Chris Brehmer's work, visit www.chrisbrehmerphotography.com
Want more WILMA? Sign up for our WILMA Weekly email and announcements at WILMAOnTheWeb.com.