True Nature
Kierstin Jarvis living out her dream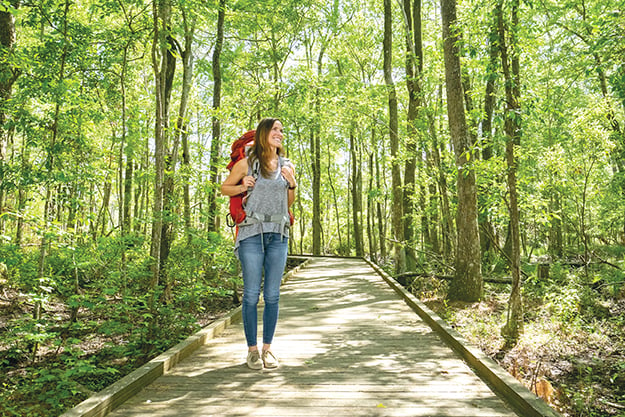 Nature Girl, KIERSTIN JARVIS, held onto her dreams until her love of nature and her passion for travel inspired her to recharge her life.
Now, she lights the spark for others, by leading nature adventures and overnight camps – near and far – focusing on women in their twenties to forties, who are – in her words – in the thick of it, whether "it" means a relationship, a family, or a career, by nudging them out of their comfort zones to rediscover their own true nature.

(contributed trip photos from KIERSTIN JARVIS)
How did you connect to nature when you were a kid?  
JARVIS: "I grew up in East Tennessee and had the parents who said, 'If the sun is shining, you're not allowed to be inside.' I also lived out in the country. I wasn't always with friends. It was me and the tree and a couple neighbor kids. I was an independent kid, climbing trees, riding bikes.
My dad was into camping, swimming in creeks, jumping off rocks. I got into mountain biking when I was in my teens. I remember so badly wanting all of my girlfriends to ride with me, but nobody had a bike — was always riding with dudes, not that that's a bad thing."

You say you always wanted to travel abroad and for years held onto the dream of moving to Central America and creating a nature camp. Let's fast-forward: After marriage, the birth of your three children, and other familial obligations was there an "aha" moment, an epiphany, a turning point when the pathway opened for you to create Nature Girl?  
JARVIS: "I went to St. John for an open water swim camp. Then, I wanted to go to Europe, and I drug my dad with me. We went to London and Paris. We traveled by train and bus. We stayed in Airbnbs, hiked the Cinque Terre (in Northwest Italy), jumped off of rocks into the ocean."

Where was Nature Girl born?
JARVIS: "I wanted to go to Iceland. That trip was a big boost forward in starting Nature Girl. I got three girlfriends to go with me. I rented a Land Rover Defender. We drove the southern coast, off-roading through glacier streams. I said, 'I don't know what I'm doing, but let's do it.'
One girl had never been out of the country, and she's one of my very good friends. For her to be out of the country for the very first time, to see a different culture for the very first time – she went hiking and had a panic attack on a trail halfway up a mountain – to see her experiencing this process of really stepping out of her comfort zone, it made my heart really happy.
When she came back she was inspired to do it again. That's what this is about … when you take it home with you, take it back to your job, your kids – challenges you have in your life … it reminds you of how strong you are, how capable you are; and that's what makes me tick."

What happened next?
JARVIS: "In September (2018), I did this pilgrimage in Spain. El Camino is 500 miles, and I couldn't walk it, so I decided to mountain bike it. My first day, I realized I deserve to be happy and needed to figure out how to be happy. … It always comes back to relationships.
I've been listening to Brené Brown a lot lately. She talks about the importance of being open and vulnerable, being in community, finding yourself, finding happiness whether you're in a relationship or leaving a relationship."

Now that Nature Girl is beyond its infancy, are you seeing the group of participants grow beyond the friend circle?
JARVIS: "Last summer, I did a whitewater rafting trip – glamping in a barn. I helped create this opportunity and then stepped back – let the other women talk. I think I was washing up the dishes, and the girls outside had already started their own fire and set up chairs.
When I joined the circle, one woman was talking about her divorce, several girls were talking about their fear of being followed and stalked. All that conversation happened organically. … With women, we're so much more relaxed – we have all of these similarities that connect us and connections with each other – so much more relaxed about what we talk about."

Where will Nature Girl travel this summer?
JARVIS: "The big thing is Croatia and Montenegro (in July) – have four going. We're going to be on a sailboat (in the Adriatic Sea). I started planning in September.
My goal was – and I'm still learning as I go – three months out you have to buy a plane ticket, and I had to pay my guides. If you're going to take eight days off from work or being a mom, every woman has 1,000 arrangements to make.
In 2020, I'm looking at Africa. A big dream of mine is to do a Kilimanjaro trip."
Choose Your Own Adventure
Keep up with upcoming outings and events, such as meetups at the Wilmington Rock Gym and yoga and surf instruction on the beach at
To view more of photographer Kevin Kleitches work, go to kevintitusphoto.com.
Want more WILMA? Click here to sign up for our WILMA newsletters and announcements.