Truck Stops
Unique food trucks hit the street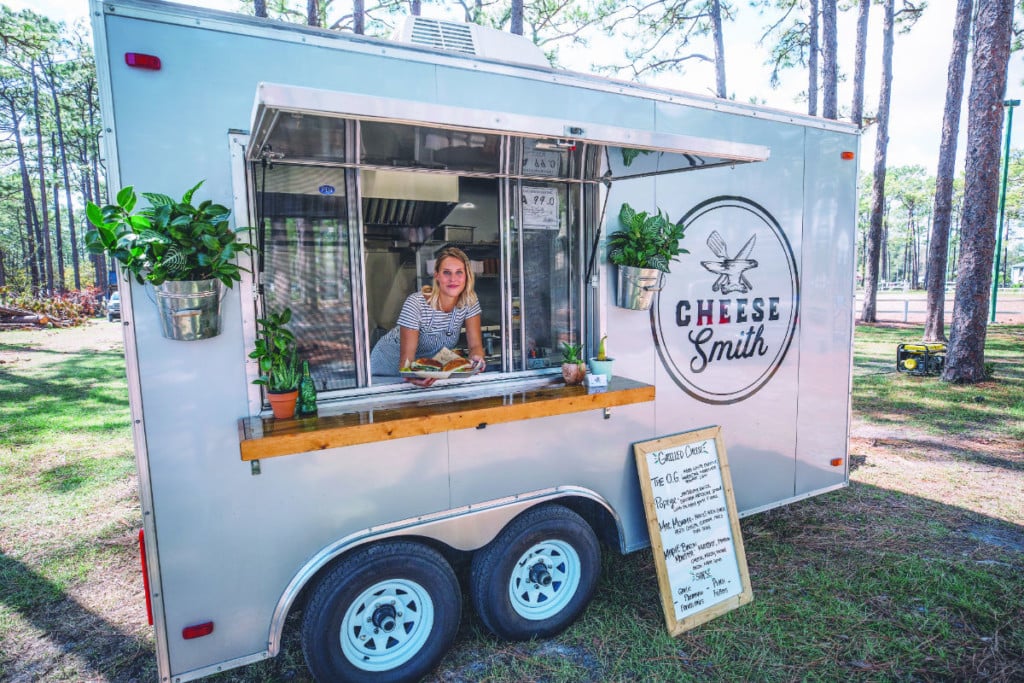 Here are three of Wilmington's leading ladies knocking it out of the food truck park. Each brings her own unique, authentic story, and of course, tasty eats you can get your hands on all over town.
Read on to learn why SOULFUL TWIST's PAT GREEN trusts that food brings everyone together; hear ERIN LANGSTON of WILMYWOODIE tell tales of endless pizza taste-testing, and get MOLLY CURNYN's inside scoop on CHEESESMITH CO's exciting future addition (canning the truck's signature tomato jam – oh, and a baby on the way)!
Pat Green
Soulful Twist
Chef Pat Green was known for steering the Southern menu behind the scenes at Elijah's. In 2014, she grabbed a new wheel. Her soul food-focused truck, aptly named Soulful Twist, was one of the first on the scene and continues to be one of the top mobile eateries spreading the love.
Your truck is one of the veterans in Wilmington. Was it difficult to get it up and running when the food truck scene was still pretty bare?
"It was a little difficult with the rules changing and trying to get on same page. But, once we started, (former Greater Wilmington Business Journal food writer) Liz Biro wrote an article about us, and it helped get our name out there. A lot of breweries started popping up, and that was helpful as well."
Was it even a question to do anything else besides soul food, or has that been your go-to cuisine?
"Well, I'm a country girl who grew up on a farm, and I wanted to stick to my roots. I remember my uncle fishing and shrimping all day, and then we would cook everything (like gumbo with shrimp and garden veggies) outside. It was great."
Did you ever imagine owning your own restaurant as a kid, or was running a food business something that sparked your interest later in life?
"I actually went to school for electrical engineering and got my minor in computer programming. But, while I was in school, I worked with a lot of great people cooking at different restaurants, and then I got to Elijah's. Cooking makes people happy and takes their minds off their problems. When you see people laughing and talking and eating some good comfort food, it makes you feel good. You can say, 'Hey my food did that!'"
What's the most popular item?
"I'd have to say the pulled pork tacos or the pork chop with the remoulade sauce on it. The collard green sandwich is another great seller."
Molly Curnyn
Cheese Smith Co.
Molly Curnyn and her husband, Brendan, took a classic to the next level when they launched their melt-making machine CheeseSmith Co this year.
Did you ever imagine owning a restaurant as a kid, or was running a food business something that sparked your interest later in life?
"Food has always been a big part of my life. I'm fortunate to have two parents that are both great cooks, and my brother is a chef by profession as well. I'm definitely not surprised I ended up running a food business. It just took me a while to figure out exactly what route I wanted to take."
With so many different varieties of grilled cheese to offer, how did you even begin to narrow down the choices your standard menu?
"Starting out, we aimed to please as many customers as possible by offering a wide range of different ingredients. Since we started in June, we've had about fifteen different sandwiches on the menu and usually offer four at a time. The best part about getting to interact with all of our customers is their feedback. We love bringing things on and off the menu based on what we hear from them."
What's your personal favorite menu item (or favorite ingredient combo)?
"My favorite will always be the O.G. It's Kerrygold's aged cheddar, which is such a delicious cheese on its own; American cheese to give it a little contrast; and our housemade tomato jam that's earthy and smoky. Melted against the cheese, it tastes like dipping the sandwich in a smoky tomato soup. I love it with bacon added on as well, because bacon makes everything better."
Would you ever consider turning the truck into a full-blown restaurant venture that's not on wheels?
"Turning the truck into a brick and mortar has been our goal since before our first day even started. We've always dreamed of the storefront but really wanted to gain a following before the investment and risk of a brick and mortar. We're going to do everything we can to turn CheeseSmith into a super family-friendly, permanent location as soon as possible, with a huge emphasis on local craft beer and fun outdoor space."
Erin Langston
WilmyWoodie
When Erin and life-and-pizza-partner Kevin Langston decided it was time to take slinging pies seriously, Wilmington rejoiced. Though WilmyWoodie was originally Kevin's dream, Erin stepped up (the stairs of their food truck) to support the project through taste-testing infinite amounts of pizza, and the couple hit the road this summer.
Was it even a question to use anything else besides a wood-fired oven, and what was the process of getting that snazzy thing built into a food truck?
"We knew we wanted to do something that would give us the best product possible, and in our opinion that was a true wood-fired pizza! We went out to Napa, California, earlier this year to pick out our colors, see the building process, and get to spend some time working on Forno Pimbo's ovens. Getting the oven from Napa to our fabricator was a weeklong process by 18-wheeler, and I personally couldn't stomach going to watch it get put on the back of the truck, so Kevin watched that process go down."
With infinite varieties of pizza to offer, how did you even begin to narrow down the choices your standard menu?
"We change the menu constantly but have staples that we always offer like The River (a cheese pizza) and the ILM (pepperoni), but it's hard from day-to-day and week-to-week because we want to share it all!"
What's your personal favorite menu item?
"A dessert pizza we haven't debuted yet. I have a sweet tooth, and I'm determined to get it on the menu soon. My other favorite is the Two Beaches: a pesto base with mozzarella, goat cheese, chicken, bacon, onion, arugula, and a balsamic drizzle."
What was the biggest crowd you served?
"Our craziest night so far was one of our first events at Broomtail (Craft Brewery). We opened the window to a line of about twenty people. Our credit card machine went down after two orders, and when I got it back up we had forty people in line. After surviving that, we knew we could get through just about anything."
To view more of photographer Megan Dietz's work, go to megandeitz.com.
Want more WILMA? Click here to sign up for our WILMA newsletters and announcements.