Trials & Tribulations
Restauranteur loves a challenge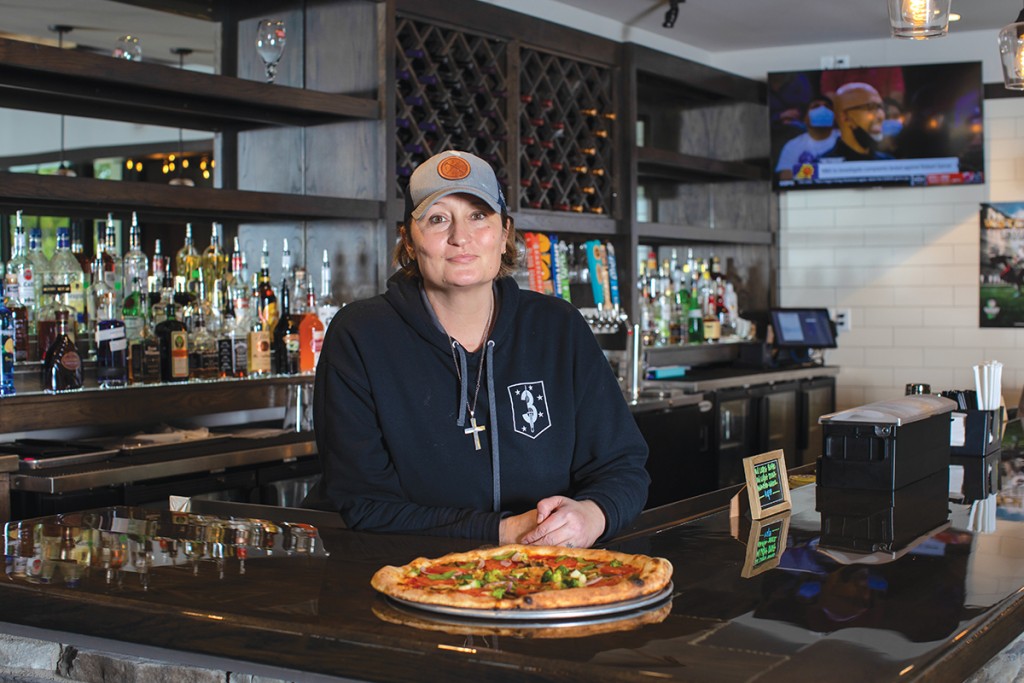 TAMMY TILGHMAN knows more about challenges and heartache than most, but it hasn't stopped her from moving forward and inspiring others along the way.
In October, Tilghman opened Girls With Dough, a new pizza and pasta restaurant in the Riverlights community.
"It is so exciting to watch it grow daily. I cannot wait to see how Girls With Dough will continue to grow," Tilghman says.
Shortly after opening the restaurant, Tilghman made the heart-wrenching decision to close her first Riverlights business, Social Magnolia Cafe, a venture started in 2017 to honor her late father.
"Closing Magnolia Social Cafe was honestly the hardest decision I've ever made. I made MSC everything I could had ever hoped for," Tilghman says. "I opened the cafe in honor of my late father who committed suicide. He loved coffee and he passed that love down to me."
Tilghman's decision to open Magnolia Social Cafe happened amid her own health crisis. Tilghman has a rare brain condition called Chiari malformation. She was very sick for two-and-a-half years and was continuously misdiagnosed.
"I felt my life slipping away little by little every day, but once I was correctly diagnosed, I was so excited to have a name that was stealing my life and to know that I wasn't crazy like how many doctors treated me like I was," she says.
Chiari malformation can cause over 151 different symptoms, and Tilghman had the majority of them.
"I quickly learned that I had to be the voice that my body couldn't be," she says. "I had to demand to be heard; my body was screaming inside to help me, and I was trying so hard to do just that. Once I found out the name to the robber that was trying to steal my life, I had no idea that I was just beginning the real fight for my life."
Tilghman spent a total of five-and-a-half months in the hospital, not consecutively. She underwent thirteen surgeries and procedures and was out of work for almost a year.
Last year, Tilghman's symptoms started again, until one night in January 2021, she collapsed. An MRI confirmed that Tilghman had a brain tumor. While still being under construction with Girls With Dough, she had surgery to remove it.
"The surgery went well, but in August 2021, I learned that it is growing back. My neurosurgeon said, for now, we will watch it," Tilghman shares.
Until Tilghman discovered she had a brain tumor, she was at Magnolia Social Cafe seven days a week and "never once felt like I was working."
"Making the decision to close something so huge in my life … well there are no words to describe how that felt," Tilghman explains.
The early days of the pandemic had a negative effect on Magnolia Social Cafe as most of her daily commuter customers became home-based.
Delays with equipment arriving and construction also made opening Girls With Dough a constant challenge.
"You want to be competitive in pricing, but the industry as a whole is doing all we can do to be fair," Tilghman says.
In addition to the restaurant business, Tilghman has been a bail bondsman since 2004. She and KIARA BREWSTER opened Brewster Bail Bonding in 2015.
"I truly love helping people, and that line of work gives me the opportunity to really reach out and help in a really rough time of their lives," Tilghman says.
Tilghman loves a challenge.
"I thrive off of challenging myself. I love to see what else I can do in this lifetime," she says.
Tilghman credits her strength to surrounding herself with her three children who work with her and her two Great Danes and pit bull who are her "joy and peace."
In the future, Tilghman hopes to expand her reach with GWD.
"I want to duplicate Girls With Dough. I want to have several locations," Tilghman says. "I want to own an animal sanctuary one day. Now that may a little further off in the future, but it is always something I dreamed about."
---
Info: @girlswithdough on Facebook and Instagram
---
To view more of photographer Megan Deitz's work, go to megandeitz.com.
Want more WILMA? Click here to sign up for our WILMA Weekly email and announcements.