Treatments and Trials
Rosalyn George, owner of Wilmington Dermatology Center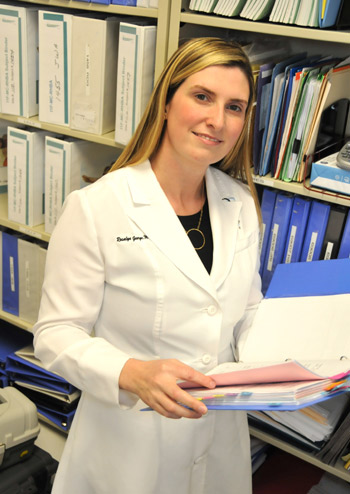 ROSALYN GEORGE was one of those kids who knew exactly what she wanted to be when she grew up.
The evidence still hangs in George's office in the form of a crayon drawing. In it, an eight-year-old Rosalyn sporting purple scrubs and the ubiquitous '80s perm smiles broadly, a doctor's head mirror on her forehead. Her mother had saved the drawing and pulled it back out as a present for George when she graduated from medical school.
"I always liked medicine and said I was going to be a doctor," she says, "and here I am."
"Here" is owner of WILMINGTON DERMATOLOGY CENTER, where George sees patients with medical and cosmetic needs while heading up a practice that has grown steadily since opening five years ago.
George picked dermatology for her specialty after rotating through different areas as part of medical school and liking them all. To her, dermatology represents a broad view of patient care.
"I see kids. I see adults. I do surgery. I do medicine. So I get to do a little bit of everything on a daily basis," she says.
While George offers cosmetic services from Botox injections to laser hair removal, medical procedures like skin cancer checks and psoriasis treatments make up the bulk of visits.
"I definitely hold onto my medical side, that's a conscious choice," says George, who decided not to focus solely on cosmetic dermatology.
Part of that medical interest also extends into clinical trials.
George is principal investigator on four trials right now and just closed out two others. The studies can range from a twelve-week trial for an acne medicine to a five-year one on a potential psoriasis drug.
She also is involved with two, ongoing observational studies, gathering data about patients with skin diseases such as hidradenitis, which causes painful cysts, to see what the affects are on their daily lives and shortcomings of existing treatments in the hopes of helping to find better options.
"A lot of the conditions that we treat, there's not a lot of research on," she says. "There are these conditions in dermatology that aren't necessarily life threatening, but they can be very devastating to people. People will think they're contagious, or they'll avoid being around other people. They can affect their job performance."
Participating in the clinical research helps George keep abreast of new developments in the field. On the patients' end, for some of the enrollees it might not only be the first time they've ever visited a dermatologist, but also the first time they've seen any doctor in years because they haven't had health insurance.
At first, it was George seeking out trials to participate in that sounded interesting. Now, with the practice having completed a number of them, studies find her.
"Once you kind of start doing things the people who are monitoring the trials – a company like PPD that is working with clinical trials – if they say this site has done a really good job, they're up to date on all the stuff, the coordinator's keeping their paperwork well, the doctor's involved," George says, "then by word of mouth, they go 'You did great on that. We have another trial.'"
This year, the practice hired a second clinical research nurse keep up with the increase. George sees the patients, but it's the clinical research nurses who enable the practice's level of trial work, which can be labor-intensive with tracking and paperwork.
"We want to continue to grow," George says. "Right now, we just don't have any more space. We're hoping that over the years, we'll be able to accommodate more trials."
It was during George's final year of residency training at Penn State Hershey Medical Center when she and her husband started planning for the practice's opening. (George's sister-in-law is Sandra Hall, an OB/GYN physician at Wilmington Health, which is how the couple became familiar with the city.)
While she was training, George's husband would fly to Wilmington to scope out spaces for rent and take care of other things on the business end.
From there, things moved quickly.
"We moved right after I finished my residency in June," George says, "and then I took my boards in August, and we opened up in September."
The initial office close to Wrightsville Beach housed four rooms, a receptionist, an assistant, George, and her husband – now the practice manager.
They moved to their current location on Military Cutoff Road to a space more than double in size. The practice now has seventeen employees.
"In five years, we have grown tremendously. I think that has a lot to do with the way that we treat people, but I also think, unfortunately, skin cancer is an epidemic in this country," George says. "There are more skin cancers diagnosed every year than all the other cancers combined. We see a lot of patients, and we see a lot of skin cancer."
She describes dermatology as constantly changing, particularly as new treatments are developed.
"There's advances being made every day," George says. "For example, if somebody had a melanoma that had left their skin and had metastasized somewhere else, that was almost always a death sentence. And now in the last several years, there have been multiple drugs that have been approved to treat metastatic melanoma, so it's a dynamic, changing field.
"Even with the cosmetic stuff, there's new lasers and toys. So it's an exciting field to be in."