Trained to Soothe
Nancy and Joe Stoner, Therpay Dog Trainers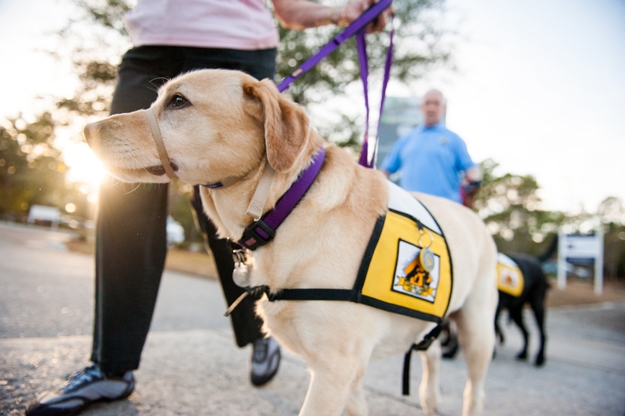 The Stoners' three certified therapy dogs were trained through CAROLINA CANINES. Their clan includes a 13½-year-old black Labrador named SARAH who has been working with hospice patients for twelve years; a 4-year-old black lab named REBEKAH who also works hospice patients; and a 5-year-old yellow lab named HANNAH who works at nursing homes.
They're also training ABIGAIL, a 15-month-old chocolate lab.
As team trainers, they've seen pretty much every breed including purebreds and rescues.
"We had a pit bull mix come through who is an outstanding therapy dog," Nancy Stoner says. "No breed is better than another. Basically it's the relationship you have with your dog. It takes training and work, so you have to be serious about it. It's a commitment."
Dogs can begin training once they're a year old and have a solid obedience foundation. Dogs must pass a canine good citizen test before going into the six-week therapy training program.
At the end, dogs and owners are evaluated through a rigorous test before they are certified.
Locally, trained dogs work with the public schools' reading program as well as visit hospitals, nursing homes, and hospice.
Carolina Canines is now Canines for Service Inc., offering programs for service, literacy, wounded veterans, and therapy. The Stoners have trained teams for the past three years.
To view more of photographer Will Page's work, go to www.willpagephoto.com.