To Lebanon and Back
Marla Rice-Evans lives her dream and makes a difference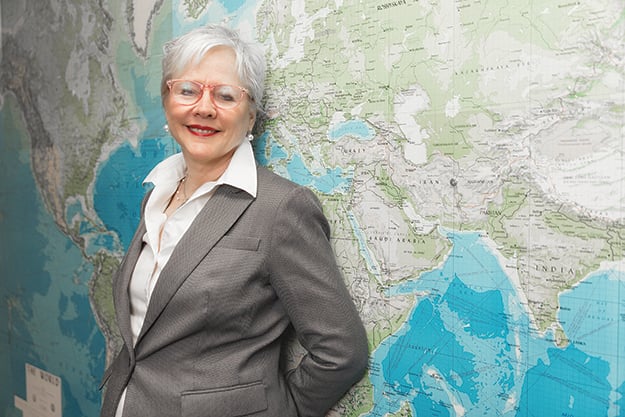 "I was turning 59 and felt like I needed to do something else. If some place would want me somewhere to do something good in this world, I needed to go", said Marla Rice-Evans, explaining her adventurous career decision in 2014 to become vice president of Lebanese American University (LAU), a job that would require a move to New York City and frequent travel to and from the Middle East.
"I went a LOT," Rice-Evans says.
"A lot" translates to 248,800 miles worth of trips to Lebanon and back, which is, by the way, more miles than it takes to get to the moon (238,900 miles).
Good in this world, especially that part of the world, she did do. In just three and a half years as an LAU vice president, Rice-Evans led a $100 million campaign that exceeded its goal and she secured numerous scholarships for students who would otherwise never have had the chance to go to college.
"Students to me are students all over the world. We have boundaries, we have different cultures but we are all in this together," Rice-Evans says. "Whether it's a student in a village in a remote area in Lebanon or a student in a rural area here, the first to go to college in their family, same thing," she says.
Rice-Evans, a former associate vice chancellor at UNCW and scholarship donor, worked nearly 40 years heading non-profits and fundraising at universities, never once getting to use her beloved undergraduate major, French. That was, until she found herself in the throes of her role at Lebanese American University.
"So, I get this job and I'm hired to manage people in a country I don't know with a staff that speaks Arabic, English and French, often in the same sentence," she says.
"Who would guess that when one is 59, one would so need that one thing one so loved," Rice-Evans says with a laugh.
LAU's head office is in New York with campuses in Beirut and Byblos, a small town that means "Bible" and home to where the very first alphabet was created. It started as a girls' school in 1835. Today LAU is a thriving university with more than 8,000 students.
Because Lebanon is near the Fertile Crescent, produce abounds. Rice-Evans grew to favor persimmons and fattoush salad throughout her 20 trips there.
Some interesting factoids about Lebanon: It can fit into half of Connecticut; it has the same climate as Wilmington, just a little warmer; there are 17 different religions and the people for the most part, says Rice-Evans, get along well; and Skype works better from Wilmington to Lebanon than from Wilmington to New York, she confirms.
"One young woman who works at the university said to me, 'All of you Americans, you just think we're still on camels, don't you?' I said, 'Well, some do, honestly.' She said, 'it breaks my heart,'" Rice-Evans recounts.
Hassan Jebai, an economics major with a high G.P.A., was able to study for a semester in New York City, thanks to a scholarship Rice-Evans coordinated. It was her favorite accomplishment.
"The donor came as a young man to the United States and it changed his life. He wanted to give that experience to someone else," she says.
Rice-Evans is now back home working for LAU from Wilmington and enjoying being in one place.
"I wanted to help make things better there," she says. "That's all I wanted to do; I'm at peace I was able to do that."
To view more of photographer Chris Brehmer's work, visit www.chrisbrehmerphotography.com
Take 5 with Maria Rice-Evans
WAS IT EVERYTHING YOU DREAMED OF, GETTING TO SPEAK FRENCH ON THE JOB?
I managed a team who would speak Arabic, English and French often in the same sentence. Who would guess that when one is 59 one would so need that one thing one so loved?
WHAT WAS YOUR BIGGEST ACCOMPLISHMENT AS VICE PRESIDENT OF DEVELOPMENT FOR THE LEBANESE AMERICAN UNIVERSITY?
During my 3.5 years at LAU, we completed and exceeded a $100 million campaign.
WHAT WAS YOUR FAVORITE THING TO EAT IN LEBANON?
I loved hummus with brown bread and Fattoush salad, which consists of romaine, mint leaves, tomatoes and cucumbers with herbs, topped off with a dash of sumac, pomegranate seeds and a vinaigrette of oil and vinegar and lime or pomegranate juice.
HOW OFTEN DID YOU TRAVEL TO LEBANON?
I traveled more miles total than it takes to get from the earth to the moon: it is 238,900 miles from earth to the moon; I went to Lebanon 20 times in the last 3.4 years, which totaled 248,800 miles.
EVER RUN INTO ANY PROBLEMS TRAVELING BACK AND FORTH TO A DEVELOPING COUNTRY?
On the Friday night before Thanksgiving in 2016, which was my last night in Beirut after a two-week work stint, I got a call from the LAU President. He told me Russia was pushing to get the Beirut airport closed that very night so they would have access to runways in order to bomb ISIS in Syria. Suddenly I had one hour to pack two weeks' worth of work materials and clothes and get to the airport.