Time to Write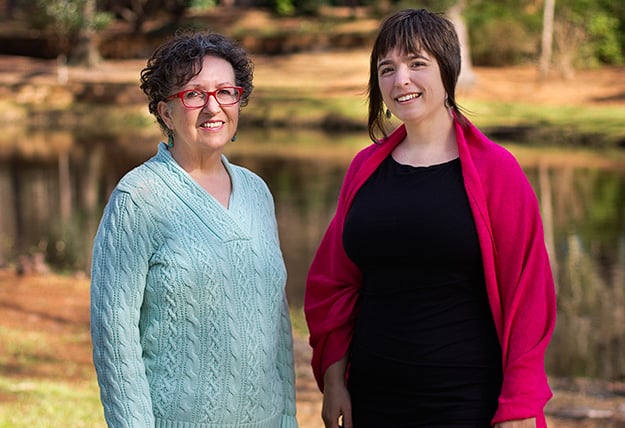 Virginia Woolf, a pioneer of women's literature, taught the female writer to have of room of her own, a mind of her own, and a voice of her own. Less romantically, this literary luminary also acknowledged that these goals require economic funding – a notable struggle for artists of all genres and demographics. With the help of the North Carolina Arts Council, local writer Sheila Webster Boneham and poet Anna Lena Phillips Bell each received a $10,000 grant to pursue their literary endeavors.
Boneham and Bell applied alongside 190 other applicants for the 2015-16 grant year, and only eighteen artists received a grant. David Potorti, literature and theater director at the council, says the panelist were "blown away by the quality, creativity, and use of language" in both the women's writing samples.
"We want the fellowships to have an impact, especially for the creation of new work," Potorti says of the fellowship's goals. "Some (applicants) might be right on the cusp of the next step of their career."
This fittingly suggests the reasons for the fellowship received by Boneham, who is in the midst of an exciting career transition. Though she's always worked across genres, she has recently returned to literary and narrative work in addition to her award-winning mystery series Animals in Focus (featuring books Drop Dead on Recall, The Moneybird, Catwalk, and Shepherd's Crook), and informational nonfiction about dogs, cats, and animal welfare.
"The grant is giving me time to experiment with my writing" says Boneham, who has temporarily stepped back from teaching writing classes to dedicate time to explore with different kinds of prose.
Her application's writing samples included an essay titled "A Question of Corvids," which was nominated for a Pushcart Prize, won the 2014 Prime Number Magazine Creative Nonfiction Award, and then went on to be featured in The Best American Nature and Science Writing 2015, edited by Rebecca Skloot.
In the next year, Boneham will continue writing in the same style by digesting themes of family, responsibility, and nature while "intertwining environment, place, and the human relationship to both."
Coincidentally, Bell's current poetry project also stems from environmental roots – or lack thereof. Her poetry collection in progress, titled BELEAVE, will include a series of poems that consider environmental conditions that contribute to the decline of tree populations, such as chestnut blight, which decimated U.S. chestnut populations in the last century, or laurel wilt disease, which affects red bay trees and occurs in the Wilmington area.
"I wanted to think about these species interactions and their effects on landscapes I love, not just through science, but through art," she says of her manuscript.
For example, in poetic charms for the trees, she carefully considers language that would describe the conditions in which certain species would thrive.
This correlation between artistic intention and environmental advocacy appealed to the arts council panelists, says Potorti.
"Anna Lena's poems were so vibrant and consistent and had a sense of landscape and diversity," he says. "This was interesting to the panelists because it's a real issue going on in the world."
Bell became interested in the subject while serving as a senior editor at American Scientist magazine, for which she remains a contributing editor. Now, at University of North Carolina Wilmington, she teaches courses in publishing and is editor for the literary magazine Ecotone, whose mission is to publish place-based work.
Her previous poetry manuscript was also influenced by her environment as she grew up in upstate South Carolina, where she enjoyed old-time Appalachian music and Piedmont blues. This manuscript, Ornament, includes poems inspired by the tunes of these genres and was a finalist for the 2015 Akron Poetry Prize. Her grant application contained pieces from this collection, and at a celebration and reading for the local fellowship recipients in October, Bell played the banjo with colleague and author Clyde Edgerton and North Carolina poet laureate Shelby Stephenson.
Much like Boneham, Bell believes that the North Carolina Arts Council funding will allow her to take time, physically and mentally, to dedicate to her writing.
"The Arts Council fellowship is a big encouragement," Bell says. "It's lit a fire under me to work on this manuscript."
To view more of photographer Terah Wilson's work, go to timelessfotographie.com