Theatre For All
New program brings theater arts to students with disabilities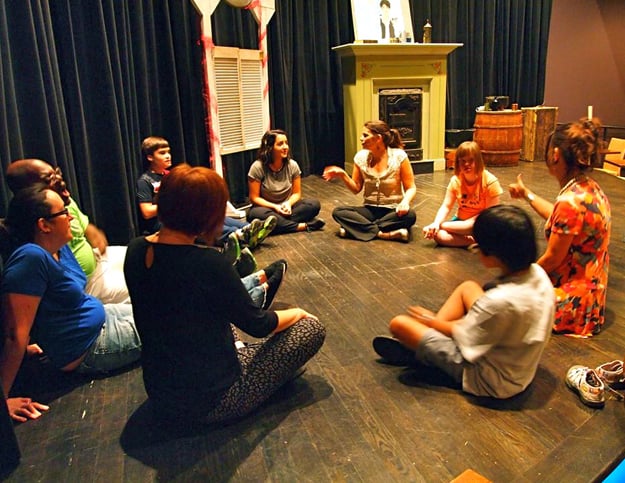 Late last month, a group of new students gathered at Theatre NOW. The budding thespians worked on voice exercises and improvisation skills. It was not unlike many acting classes, but for some it was their first chance taking the stage.
So far, the Theatre for All! drama program has held three classes for area kids and adults with disabilities, but the interest already is strong, organizers say.
"We've already got a core group of about ten students, and it's been amazing even in these few short weeks," says Kim Henry, who along with Gina Gambony, started the program as part of the Superstar Academy nonprofit, which holds other theater programs for young people.
Gambony and Henry, who has been a board member for Superstar Academy for more than a year, got the idea for a stand-alone program after leading theater workshops for students with disabilities in area schools.
They worked with students at Laney High School – a group of high-functioning autistic students and another group of students with differing disabilities – as well as at Douglass Academy.
"We realized from our work there last semester … that for some of those students that we were working with, it was absolutely their passion," Henry says.
She says they looked for an ongoing creative arts group for people with disabilities and had trouble finding options.
"We realized there was a need for that, so we created it," she says.
Now, on Saturday mornings, the students meet to learn about the theater and eventually will work on their own showcase to be staged before the end of the year, Henry says.
Superstar Academy formed about two years ago, and the Theatre for All! group is just one of its programs. The academy overall focuses on providing free or low-cost theater arts education to area children.
As arts funding has tightened in schools, the group has taught classes at several area public schools and community groups. Last week, Superstar Academy staged its first major production, #Alice, a riff on children's classic stories like Through the Looking-Glass in the age of social media and smartphones.
"It's all about supporting theater and arts in areas where its lacking," Henry says of the outreach programs.
As for the Theatre for All! group, its efforts received a boost with a recent $5,000 donation from Wilmington-based Live Oak Bank, funds that another Superstar Academy board member Dylan Patterson helped secure as the group seeks out sponsorships. Henry says the money from Live Oak Bank will be used to support more scholarships for classes as well to help with costumes and theatrical pieces.
It's only been a couple of weeks, but already some of the Theatre for All! students have responded to the classes, Henry says, becoming more outgoing, stretching their imagination.
"For me," she says, "it's always really exciting and an honor of how the universal language of theater – to be creative, to be expressive – can be uplifting and inspiring."
Theatre for All!
Classes are held once a week on Saturday mornings at Theatre NOW, which donates use of its stage.
Participants pay $10 per class with discounts given for multiple classes, and scholarships are offered.
For more information, go to superstaracademy.org or call Kim Henry at 616-9180.