The Test Kitchen
Experiencing fine dining in a gourmet classroom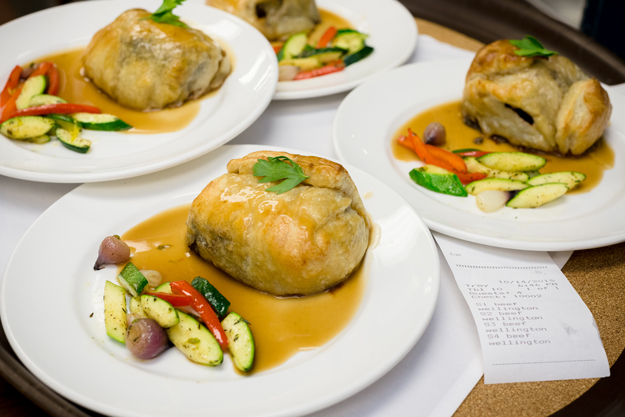 When you step inside OUR PLACE, you are greeted with elegantly set tables complete with tablecloths, place settings, and candles. The menu seems never ending with five gourmet courses. To secure a table, you must book months in advance.
While this may sound like a description of a five-star exclusive restaurant, it is actually the student learning lab of Cape Fear Community College's Hospitality Management and Culinary Arts programs.
Our Place is truly a unique dining environment, for when you come to the restaurant for dinner or lunch, you are also "coming to class". Every role at Our Place, including servers, chefs, hosts, and cashiers, is performed solely by students. For each dining service, there is also a student who serves as dining room manager. Students in the programs are working toward an associate's of applied science degree in hospitality management or culinary arts. The Dining Room Service class rotates positions in the front of the house, while the Culinary Production class handles the kitchen stations.
Some students have considerable industry experience, such as those who have sought the degree as a means to gain a promotion, and others are completely new to restaurant service, including people transitioning to a new career, says Diane Withrow (below), CFCC's hospitality program manager.

This fall, the students are studying classical cuisine, and the menu reflects French-inspired dishes. Throughout the semester the menu changes every two weeks depending on student learning objectives.
On the night I visited, the menu included a duck confit crepe for the hors d'oeuvre, beef mushroom cream soup for the soup course, crab ravigote Napoleon for the fish course, a choice of salmon filet, rack of lamb, or beef tenderloin for the entrée, and falling chocolate cake for dessert.
To align with the course schedule and not compete with area restaurants, Our Place is only open for dining service for one meal per week: dinner service on Wednesdays at 6 p.m. during the fall semester and lunch service on Wednesdays at 11:45 a.m. in the spring semester.
Dinner and lunch reservations for Our Place must be made via their online reservation system, and be forewarned: tables fill fast. The reservation system opens at the beginning of the semester and has been known to fill within "an hour," Withrow says. The dining room has a small number of tables, and each table is only sat once, so there is a limited cap on reservations per each dinner or lunch service.
The program's popularity can be attributed to a high-end, five-course meal for only $15. Lunch, which includes fewer courses than the dinner service, costs $10. The program is subsidized by student tuition and fees, since the cost participants pay often does not even cover the entrée.
During the spring semester, the curriculum shifts to global cuisine, and the menu will reflect various ethnic food, such as Italian and German, as well as regions of the United States.
Withrow, who is in her twenty-third year directing the program, was hired to start the Hotel Restaurant program for the college. She came to CFCC with extensive experience in the hospitality industry, having worked for Royal Caribbean International and The Ritz-Carlton in Chicago, among others. She holds an MBA focused on hospitality management and a culinary school degree.
While in many ways, Our Place feels like a regular restaurant, there are some unique differences. For example, whereas you might be invited to linger at a typical restaurant (in the hopes that you will continue to spend), guests at Our Place are asked to leave by 8 p.m. Additionally, guests are asked to complete comment cards, which students review as a learning opportunity.
After the dinner service, students clean up, review guests' comment cards, and discuss the night's dining service experience. Withrow explains that the dining service and clean up falls during the lab hours of the class, and since students pay for the course, they are entitled to leave at the scheduled end time.
Also, because it is a student learning lab, there are no menu substitutions, and the kitchen is not able to make dietary accommodations.
Students are not allowed to collect individual gratuities, but there is a tip jar, which goes to two student clubs, The Flying Pig and the Pineapple Guild. The funds raised are allocated to scholarships and educational trips. Each year, the students attend the National Restaurant Association Show in Chicago.
During the dinner service, Withrow observes while stepping back to let the students learn.
"The first year, I would run around and refill waters and coffees," she says. "Now, I sometimes give them a nudge to go refill drinks, but for me to do it for them teaches them nothing."
Withrow describes Our Place as an invaluable learning experience for her students. "It helps to marry theory and practice with hands-on experience. It's also a safe environment where they can make mistakes," she says.
When asked what she enjoys most about her job, Withrow's answer seems to come easily.
"I love the students," she says. "I love seeing them reach their goals. It's really a lot of fun. I see former students around town at their new jobs, and it is satisfying to see them do what they set out to do."
To view more of photographer Erik Maasch's work, visit websta.me/n/emaasch