The Stump Monkey
September Men's Room Column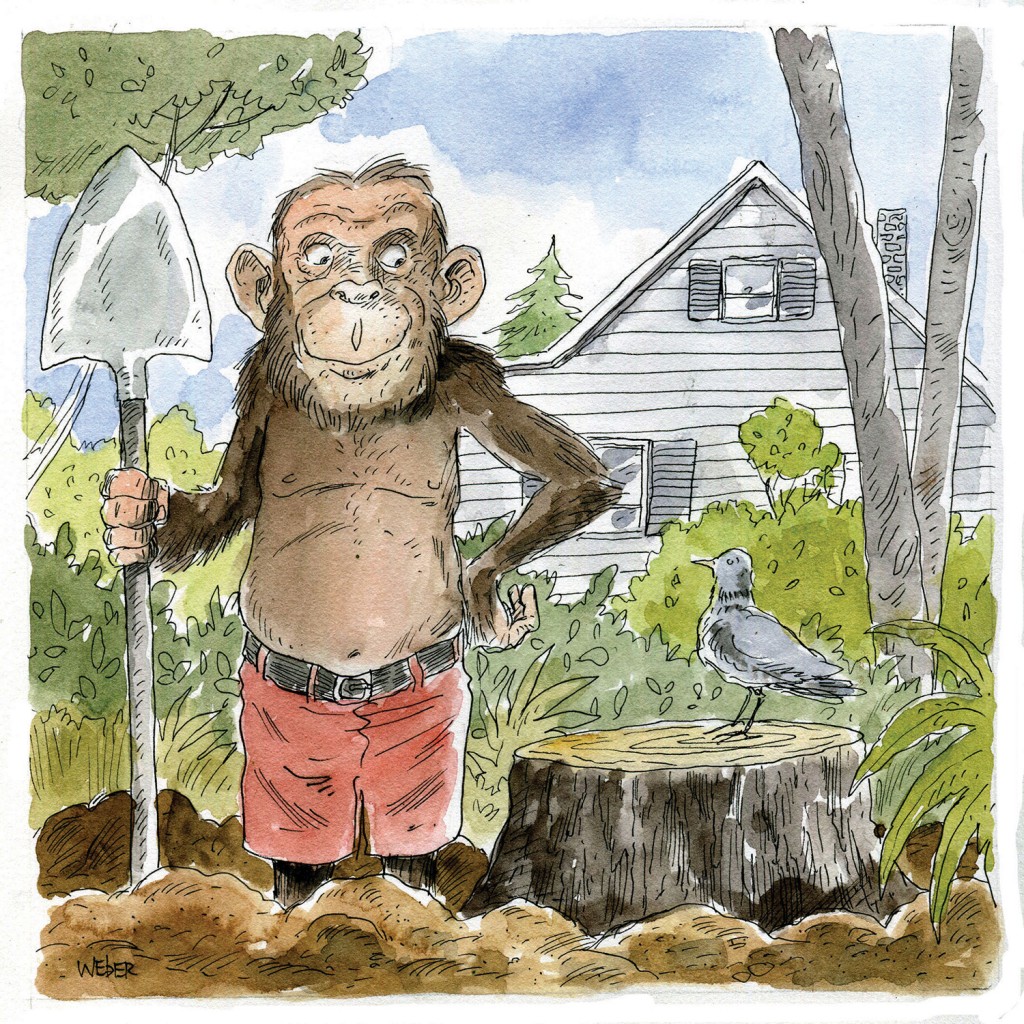 Get outdoors, they said. Get into the sunshine. Get fresh air.
Who was I to argue with epidemiologists during a pandemic? So, I went outside, all the way to my backyard. The planet was sending a message: I had to do something about that mess.
Years ago, I took up a mission to overhaul my entire yard – thinning it out, cutting it back, cleaning it up, giving it something more like planned purpose and less like jungle jumble.
The previous owner of my house had a motto: "If it's worth doing, it's worth overdoing." He sure overdid it in the yard.
A mass of pittosporum reached up the front windows, and a row of unkempt yews shielded one side of the house. The guy plugged all open spaces with haphazard hollies, frost-bitten ferns, and assorted strange plants I can't find in the botany textbooks. He added a double row of boxwoods dense enough to stop an attack by the Knights Templar.
I fought the overgrowth, but by the time I got to the last section of the backyard, I'd run out of energy and space to pile the clippings. I never dealt with a row of Leyland cypress the overdo- it-guy had planted to screen out a side street. The trees grew like towers, blocking all signs of human existence. The man sure liked his privacy. Maybe he was a nudist.
Hurricane Florence pushed those trees over, and when I finally got home after evacuating, I found that my neighborhood had been overrun by the creatures called Suburban Men With Chainsaws. Stuck at home with hot beer and no cable, they dusted off their Husqvarnas and Homelites, siphoned gas from their generators, and marched into the streets to, as they like to say, "clear brush."
Without asking, they cut my cypress trees to ground level.
Turns out Suburban Men get their chainsaw thrills from buzzing trunks, not from removing stumps, so they left me with the dirty work. Very dirty. After a struggle, I managed to get rid of all the stumps but one. I left it there until a few weeks ago, when my lawnmower blade hit it. While I'm not one of the Suburban Men With Chainsaws, I am one of the Suburban Men With Lawnmowers (yes, more than one), and when something threatens our mowers, that something has to go.
Dressed in work boots, ankle-high sweat socks, and discount gym shorts – the style is called Yard-Chore Chic – I went to battle armed with a shovel and a limb saw. When I stripped away my T-shirt to cool off, I heard curtains snapping closed across the neighborhood. Passing drivers covered their eyes. Dog walkers looked the other way. So did the dogs.
"That's a sight," I heard someone say. I don't think it was a compliment.
After days of digging, pulling, digging again, pulling again, and digging, digging, digging, I found that the more I monkeyed with the stump, the deeper it seemed to go. Finally, I unearthed enough lateral roots to get the saw in there and cut them away, and I worked the stump free. It was like pulling a wisdom tooth from a Tyrannosaurus rex.
I felt pretty proud of myself. I'd joined a new club: Suburban Men Who Triumph Over Stumps. I pulled off my filthy boots and headed back indoors, out of the sunshine, into the recirculated air.
---
Tim Bass is coordinator of UNCW's bachelor of fine arts program in creative writing.
---
To view more of illustrator Mark Weber's work, go to markweberart.blogspot.com.
Want more WILMA? Click here to sign up for our WILMA newsletters and announcements.