The Story of an Extra
A behind-the-scenes look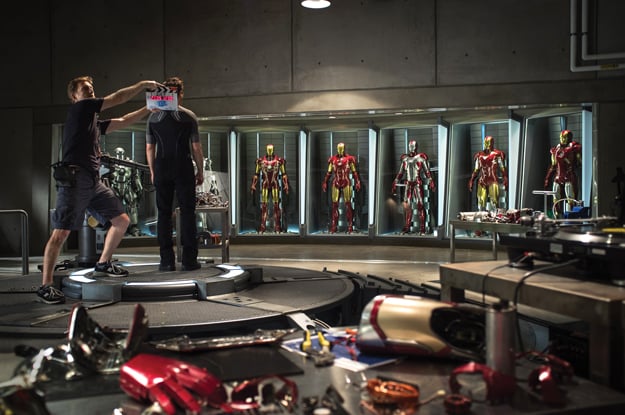 In the Cape Fear, summer blockbusters don't just appear on the big screen. They are out on the streets or at the studio or some other picturesque local spot temporarily surrounded by bright lights and large trucks.
Lucky for those of us who live here, we can be a part of the action.
No doubt that was one of the reasons thousands of people flocked to casting calls at Independence Mall, and in Raleigh and Kenansville when casting agents for Caged Heat or Caged or Iron Man 3 (depending on who you're talking to) opened the call for extras. Even more submitted photos and personal identifiers online. And, yes, I was one of those people whose self-portraits may now exist somewhere in a casting agent's database.
Sadly, when filming for Caged began, I had not yet been chosen. (Don't worry, there are still more filming days left this summer.) That didn't stop me from chatting up a friend who'd been called to action.
Because extras, and everyone on the set of Iron Man 3, signed detailed non-disclosure agreements, and because my friend knew I was digging for a story, most of our conversation was in code. I'd ask a question, she'd say she couldn't say but then we'd start a round of the old-school game show Password.
From what I gather, she got a taste of what it was like to be in an action movie – with a green screen and a production assistant yelling prompts and instructions to elicit the appropriate response. Cool! The lead was a stand-in, as Tony Stark a.k.a. Robert Downey Jr. was filming in downtown Wilmington that day. Sigh. No word on the location of Pepper Pots.
What to expect
While you're in the process of filming, being an extra isn't noteworthy. You might be leaning against a hot trashcan in the sun, waiting to walk down the same few blocks you've walked a dozen times before or several times in the previous 10 hours or getting sopped, neck and bosom, with fake blood. That's just in my vast experience, as a Mardi Gras attendee for a movie I can't remember and as a zombie in the locally beloved Dead Heist.
The fun comes after the fact, after you've caught up on your sleep and after your $75 paycheck has been cashed and spent. The real allure of working on a movie as an extra comes from the stories you can tell people. I have a friend who still shares the blurry pictures she took from her brief appearance on Dawson's Creek. Another friend has great stories about the wigs and facial hair from being an extra on Bolden! Nanci Boldizar, whose family members have been extras on many local projects, said her son will always remember being kissed by Lake Bell when he worked as a stand-in during the filming of Surface.
Local casting directors like Vanessa Neimeyer are always interested in finding more people who are interested in working as an extra. And she encourages everyone to try it. At least once. You might hate it; a lot of people do, she said. But you will have a great story to tell.