The Road Ahead
Faith. Pluck. Optimism. Determination. How to forge a new career.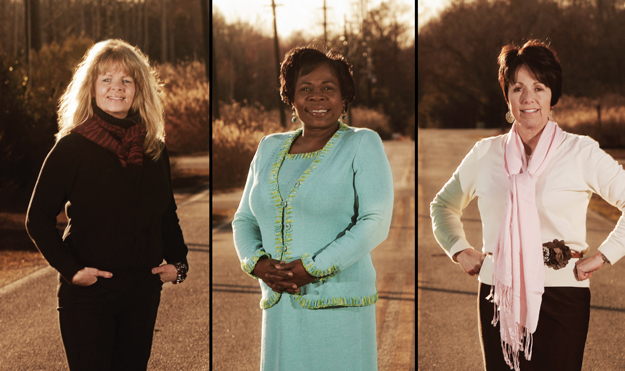 Faith. Pluck. Optimism. Determination.
Those are among the attributes that helped three Wilmington women forge new careers for themselves after their previous jobs disappeared.
There's been no shortage of stories of people whose careers fell victim to the Great Recession or those still struggling to find their footing in the still-dawdling recovery. But in the midst of the down times, some have been fortunate enough to resuscitate their careers.
Here is how these women were able to dust themselves off and jump back in the game:
Rhonda Bellamy
The art of reinvention
Rhonda Bellamy could see the signs that her twenty-two-year radio career was coming to an end.
Bellamy, who headed the news department for Cumulus' five stations in the Wilmington market and hosted a news and talk show, saw that local news was becoming increasingly rare commodity.
"We were one of the last (Cumulus) markets that even had a news department," she says.
Sure enough, Bellamy's job was eliminated. She signed off the air on May 25, 2011 – "the same day as Oprah," she points out with a chuckle.
Realizing she was "too young and too broke" to retire, Bellamy decided to take the advice she had given others in the past: Periodically, you have to reinvent yourself.
"I never once doubted that I would find something, but narrowing it down was difficult because I have so many interests," she says. "I had no idea what I would do. I just trusted, knowing that I had done a lot in the community, and that my work spoke for itself."
She stayed busy with a number of endeavors. She filled in for her ailing friend Donn Ansell on his Wilmington television talk show. Following the success of Katherine Stockett's book "The Help," she collaborated with Bertha Todd on the book "Meet the Help," which compiled the stories and comments of more than forty people who had worked in domestic service in the South.
But Bellamy's most consuming activity was helping to re-establish a local arts council.
"A group of arts leaders here invited the state arts council to come in and establish a sustainable model," she says. "I was part of a committee that helped ask for money from the city and the county, which was necessary in order to release money from the state.
"Our consultant said it was important to establish a face for the arts council. Everyone looked at me. So in December 2011, I was hired as the interim director."
She also applied for the permanent executive director position, along with more than seventy other people. In July 2012, a little more than a year after her radio career ended, Bellamy was named the arts council's permanent head.
"During all that time there was never a dull moment," she says. "I got in the flow and was open to whatever experiences were out there for me."
Linda Arrow
A leap of faith
For three years, Linda Arrow had worked part-time at Townhouse Fine Arts Supply, in the same building as her sister and brother-in-law's Townhouse Art & Frame Center. In early 2011, she learned that the owner was planning to retire and close the shop. Arrow knew she would need to scramble for other employment.
Then inspiration struck.
She could apply her knowledge of the business and its customers by opening her own fine arts supply store. In an earlier life, she had run a contracting business with her husband and knew some accounting. The decision seemed a no-brainer, she says. Still, she describes her leap into business ownership "like jumping off a cliff."
Arrow's path in establishing Arrow Fine Art Supplies has been far from easy, although she enlisted the help of every small business counselor she could find. Her first location, which opened in August 2011, was in the Castle Street arts district. She later decided to move and found space on South Kerr Avenue, near Townhouse Art & Frame Center. She says it's a good location, and she and the frame shop send customers back and forth.
Keeping her head above water, both financially and emotionally, was tough, Arrow says. Creative activity has helped her cope with the stress.
"I draw. I write. I dabble," she says. "It's very therapeutic. I have a notebook, and I take pictures. I go to the beach. It all takes me somewhere else for a while.
"It was a big, huge thing: taking a business you have just settled into and moving it. But when I decided I had to move I thought, 'OK, now I've done the hard part.' "
Donna Cameron
Meeting challenge head on
The real estate drop hit Donna Cameron and her family hard.
Cameron has been in retail banking for most of her career, in both Atlanta and Wilmington. She was with the bank that is now SunTrust for fourteen years.
"I ran the bank's retail division in eastern North Carolina for eleven years, but then was ready for a new challenge, so in 2008, I switched to commercial real estate at the bank. That was one of my biggest learning curves," she says.
When the real estate bubble burst, Cameron found herself managing risk within SunTrust's rapidly shrinking portfolio. Then, in December 2011, Cameron's job of city president and senior vice president was eliminated.
But Cameron's was not the only bad news to hit the family. Her husband Dan, also a banker, lost his job at about the same time.
"When he told me, I said, 'I know this is not what we planned, but we know we are blessed,' " Cameron recalls. "We have three healthy children, and the opportunity to make changes and to show our children that when adversity hits, you learn from it."
The Camerons also knew that Wilmington was home and that they wanted to find new jobs here. They learned personal lessons such as how to make wise choices when there's no income and where to allocate their priorities.
"There was no reason to fall apart," she says. "I took it as a challenge. I met with people in very different industries and learned a lot.
"People took time to talk with me. I knew I could find the next opportunity where I could make a difference and add value. I treated my time off as if I were going to a job every day, and I started every day with a Jazzercise class. It was a key component in my staying energized and gave me a whole new 'family' to support me."
In April 2012, Cameron accepted an offer to become Park Sterling Bank's senior commercial banker and senior vice president. She started her new job in June.
"Do I regret making that change from retail to commercial banking? No. I'm absolutely thankful I made the change," she says. "It made me more valuable for the next step in my career."
To view more of photographer Jeff Janowski's work, go to www.jeffjanowski.com.