The Right Notes
Backstage with Jenny Sikorsky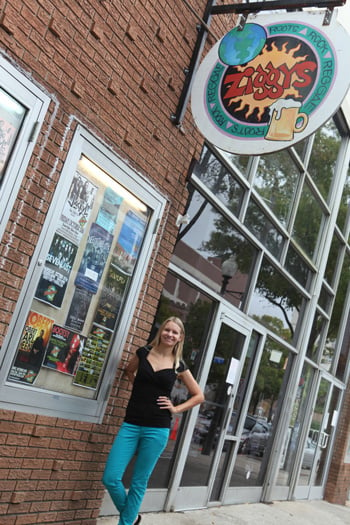 It's two hours before the Yonder Mountain String Band takes the stage at the Brooklyn Arts Center, and Jenny Sikorsky, concert promoter for HUKA ENTERTAINMENT, hasn't eaten anything. A banana brought in by one of her staff members sits in the back office, but the petite, fresh-faced blonde is too busy running down a checklist of things to do:
Add names to the guest list. Give staff info on wristbands for bar patrons and balcony seating. Print tickets for purchase at the door. Make sure volunteers have water and coffee. Field last minute calls, questions, and concerns from ticket-holders.
Hustle, hustle, hustle.
When the first ticket-holders come in for the recent concert at about 6:30 pm, stamping their wet, cold feet at the entryway, Sikorsky, dressed in a black tank top, black jeans, black motorcycle boots, and a camel cardigan, is there to greet them.
"I used to wear skirts," Sikorsky smiles. "That didn't last very long.
"I usually wear comfortable, casual clothing when I'm working. I've been known to climb on the roof."
Most of these concertgoers may not know that they have Sikorsky to thank for helping to bring such high-profile artists as the Wailers, Matisyahu, Chris Cagle, and Stephen "Ragga" Marley to Wilmington.
Working as a bartender and volunteer a mere two years ago, Sikorsky was tapped last year by New Orleans-based HUKA Entertainment to be its "concert girl" for Wilmington. She currently handles everything from organizing marketing efforts to communicating with tour managers – all of which she does as a part-time job.
By day, Sikorsky manages Monkey Junction Self Storage, a job that allows her enough flexibility to plan upcoming shows at night and to take time off when necessary.
For Sikorsky, a typical show day like today will begin at 5 a.m., when she takes "twenty minutes for herself" to drink some coffee. At 8 a.m., she does a "pre-shop," buying beer and other necessities for the band. Throughout the day, she maintains contact with the tour manager, making sure the band keeps to schedule and dealing with all the hiccups and bumps that come along the way. A concert night may not finish for her until 3 a.m.
While her energy is readily apparent, it's her ability to forge and maintain relationships with concert goers, artists, and collaborators alike that makes Sikorsky stand out.
For example, prepping for the Yonder Mountain String Band show, which was moved inside to the Brooklyn Arts Center from Greenfield Lake Amphitheater because of rain, Sikorsky points to two bar chairs she has placed by the stage.
Two ticket-holders had emailed her directly concerned about the change of venue. "They're not able to stand for long periods of time they said. So, we wanted to make sure they had something here so they could be comfortable," she says.
It's the moments – a bear hug from the tour manager, a beer-tinged thank you from a concertgoer – that make Sikorsky's work for HUKA Entertainment so rewarding.
"The transformation that artists make when they take the stage is magical," she says. "They pour everything into the performance, and so many of them walk off stage and thank us for having them. It is humbling."
To view more of photographer Bryce Lafoon's work, go to www.brycelafoonphotography.com