The Right Note
Brooklyn Arts Music Academy opens in Wilmington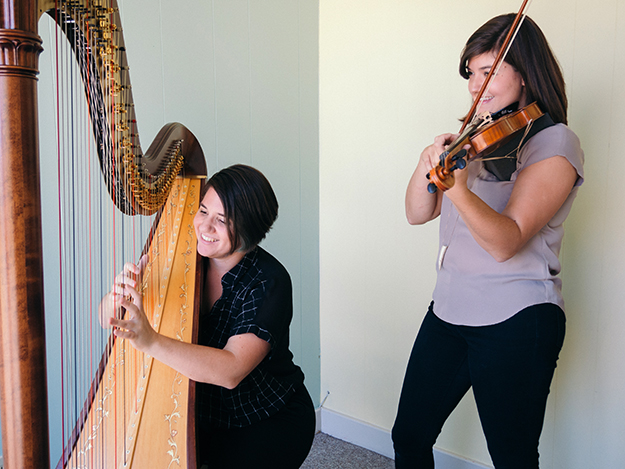 Harp, violin, viola, bassoon lessons. Music theory. Glee club. Scholarships for under-served children. That's exactly what the BROOKLYN ARTS MUSIC ACADEMY (BAMA) is offering in Wilmington now that it opened its doors this fall.
Co-founders CHRISTINA BRIER (above left) and LINDA ESTEP (right) have dreamed of opening a music school for years.
"Music is one of the most powerful things that bring people together. BAMA will deliver a sense of community in an already supportive arts district," Estep says.
Brier's love of music started in Menomonee Falls, Wisconsin, a suburb of Milwaukee where she grew up in a family of musicians. Brier and all five of her siblings studied piano with their father, a church musician, in addition to taking string instrument lessons.
"I am an unlikely harpist," she says. "A member of my dad's choir lent me a lever harp, eventually my great-aunt purchased my first pedal harp for me, and a very generous teacher gave me free lessons."
BAMA, however, is a very likely 501(c)3 business arrangement for Brier and Estep, who met when they were just five-years-old attending the same school, studying violin with the same teacher and performing together in the Milwaukee Youth Symphony Orchestra, which Brier credits as the most formative experience of her youth.
The youngest of three children, Estep's family sacrificed personally and financially so she could be involved with music. In high school, her mother drove her an hour each way for collegiate-level violin and piano lessons.
Both Estep and Brier attended Maranatha Baptist University in Watertown, Wisconsin – Brier for music performance and Estep for string pedagogy with proficiency in violin and piano. Brier subsequently earned a master's degree in harp performance and literature from Eastman School of Music, Rochester, New York. Both Estep and Brier hold teaching certificates – Estep in the Suzuki method and Brier in community music.
After summers spent in Wilmington revealed teaching and performance opportunities, the city became the post-education home to their private music studios. Brier is principal harpist with The Carolina Philharmonic and Wilmington Symphony Orchestra and second/substitute harpist with the North Carolina Symphony. Estep performs with Tallis Chamber Orchestra, Opera Wilmington, Wilmington Symphony Orchestra and was the concertmaster of the Maranatha Symphony Orchestra.
Both are educators at University of North Carolina Wilmington. Brier teaches music entrepreneurship, and Estep teaches violin.
Brier spent six months performing Bollywood music on the harp throughout India. With Manhattan harpist Kathryn Sloat, they form the duo Lilac 94 performing across the U.S., Canada, and Germany. Recently adding Italy to the list of international locations, Lilac 94 commanded third place in the International Harp Competition in Saluzzo.
Estep also has traveled the world, performing and teaching children in Ukraine and Haiti. 

And, yet they desired a higher purpose.
Brier is president of the North Carolina Chapter of the American Harp Society, a nonprofit organization made of professional, semi-professional, and student harpists, and she aims to cultivate the appreciation of the harp through instruction and guest artist recitals. The chapter performs annually for free.
At BAMA, Brier is executive director; Estep is artistic director.
It's talking about BAMA that brings the real spark to their eyes.
"We are starting small, offering private and group lessons, music history and theory, general music class, and glee club," Brier says.
Helena Kopchick Spencer and Clark Spencer join Estep and Brier as the starting faculty. All four of these classically trained artist-educators form the Brierwood Ensemble, a chamber music quartet.
Selecting the Brooklyn Arts District as home to BAMA was an easy decision, they say.
Brier and Estep's vision included expansion beyond their current studios. BAMA, located at Wilmington Friends Meeting at 202 North Fifth Avenue, offers free and subsidized lessons for students who qualify for free/reduced school lunch.
"We are within walking distance for many students. We want BAMA to be known as the place that gives back," Brier says.
"I love performing and teaching, but know there is more we can do," she adds. "I can't wait to see the Coastal Carolina Harp Chapter and Brooklyn Arts Music Academy grow and thrive."
Future plans already include additional instrument instruction, expansion of classes as determined by the interest of the community, and increasing available scholarships.
For more information, visit bamamusic.org.
To view more of photographer Erik Maasch's work, go to ejmphoto.co.
Want more WILMA? Sign up for our WILMA Weekly email and announcements at WILMAOnTheWeb.com.