The New Spoken Word
Monthly storytelling contest brings out tales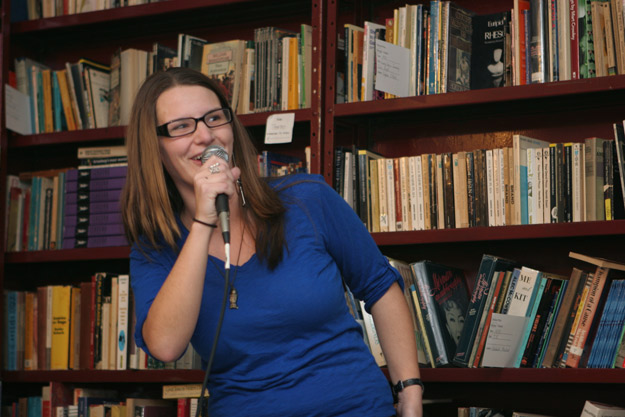 On a chilly night in downtown Wilmington, a crowd warmed with varying degrees of leather, wool, and alcohol packs into Old Books on Front Street to listen to tales of "Blood and Water."
The stage is set up in the back of the bookstore, next to "Wilmington's First Vend-a-Poem," a gumball machine filled with plastic capsules of poetry. Before the storytelling begins, attendees mill around the bar as Bridget Callahan and Beth Staples, the event's organizers, encourage potential storytellers to sign up for the contest.
A recent transplant from Arizona, Speak Easy Wilmington was borne from Staples' desire to gather members of her new community together and create fun, unexpected – and genuine – connections.
"Stories," Staples says, "are the way we get to know each other."
Staples, a professor at University of North Carolina Wilmington's creative writing program and editor of the university-owned press Lookout Books, and Callahan, a former student and active member of Wilmington's stand-up comedy scene, collaborate on each event.
The rules are simple: each story must tie to the monthly theme. No poetry, stand-up comedy routines, or notes are allowed. Stories can be fiction or nonfiction (though nonfiction is preferred). Afterwards, the audience picks the top three participants.
Staples begins the event by telling her own story, a harrowing tale about getting her first period – at Disneyland. While Staples hasn't done this intentionally, the story effectively sets up the expectations for the audience and for the participants: Bring us your quirky, your intimate, your most ridiculous stories.
"At first, it seemed like a story that was off-limits because it was so icky and embarrassing, but then that became the reason to tell it." Staples says.
Messiness, both in the storytellers (many are visibly nervous as they begin) and in the stories themselves, is encouraged here. It also lends the event a certain intimacy; it's easy to forget this is a contest.
Speak Easy Wilmington typically draws a lot of participation from UNCW's creative writing program and Wilmington's stand-up comedy scene. Staples would like to see greater diversity in the storytellers – specifically, retirees.
"It's a secret weird dream of mine to go to a retirement community and just load a bus of them up." Staples admits.
She recalls the winner of the first Speak Easy event, a 70-something woman named Anne who told the story of the first time she spent the night "in a bachelor's apartment."
"To her it was an incredibly risqué story," Staples says, "but it translated because it was so personal to her."
Speak Easy: The last Friday of each month.
For location, check facebook.com/groups/speakeasywilmington
To view more of photographer Kristen Corley's work, go to www.kristencorley.com.