The Many Sides of Latin Flavors
A peek behind the innovators at San Juan Cafe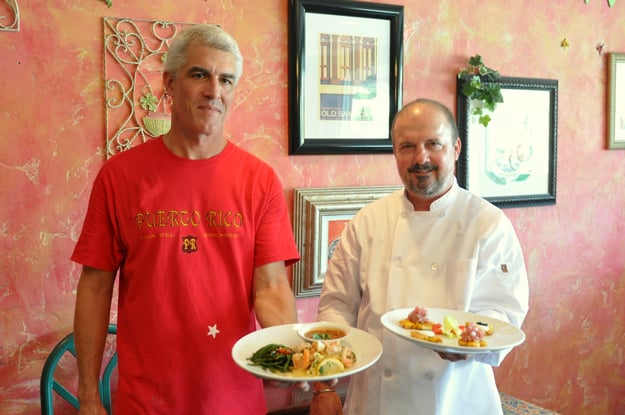 Love of Latin flavors and island life is the inspiration behind SAN JUAN CAFE and the philosophy that continues to shape the restaurant at 3314 Wrightsville Ave.
DANNY KEEGAN, who grew up in Puerto Rico and St. Croix, is a Johnson & Wales culinary school alum and was a chef for several years in Wilmington restaurants before opening San Juan two and a half years ago. He wanted to bring something different, and authentic, to the area. His Puerto Rican mother helped in the kitchen and shared her recipes for the first year of the business.
"This is the food I grew up with," he said.
Now, the mofongo – a quintessential Puerto Rican dish of mashed plantains stuffed with steak or shrimp – is one of the most popular. As are the $3 fish tacos on Tuesday nights, the chile rellenos, coconut cake, the house-made sangria and more.
Keegan's mother has since moved on to visit another of her three sons, and the restaurateur added a partner to the mix. BILLY QUETAL has a 30-year restaurant history including working at Siena in Wilmington and owning a nuevo-Latino restaurant in St. Thomas.
The two chefs met years ago, through their wives, and have been friends ever since.
"We're both island people," Quetel said.
The eventual goal of adding another chef is to allow Keegan to take over more of the front-of-the-house duties. They're also adding some items to the menu. Customers have been asking for dishes such as Caesar salad and calamari, but with a twist of Latin flavors, Quetel said.
Ultimately, that's what the two chefs are excited about, working in their own kitchen with what they call one of the world's most interesting cuisines. Latin food draws from so many cultures, they said. It incorporates the foods and techniques of Puerto Rico, Cuba, Spain, Africa, the Lesser Antilles, Jamaica and more.
"The influences are all over the place," Quetel said. "It makes it easy, and exciting, to cook."
They take special pride in the chef's specials available each day, from traditional dishes like the pastelon (with layers of plantain, beef and olives) to something like the coffee-and-ancho chile rubbed pork loin.
Latin food is flavorful, they said, but not necessarily spicy. Quetel and Keegan use lots of garlic and peppers with a moderate hand.
They keep a special homemade hot sauce in the fridge for adventuresome eaters.
Over the years and months that San Juan has been open, the word is spreading. "Our customers are so loyal, absolutely great," Keegan said.
Now, they're starting to see people who make sure to stop into the restaurant when they're visiting the Cape Fear.
San Juan is open 11 a.m.-2:30 p.m. and 5-10 p.m. Monday through Saturday.
To view more of photographer Bryce Lafoon's work, click here.