The Holiday Cocktail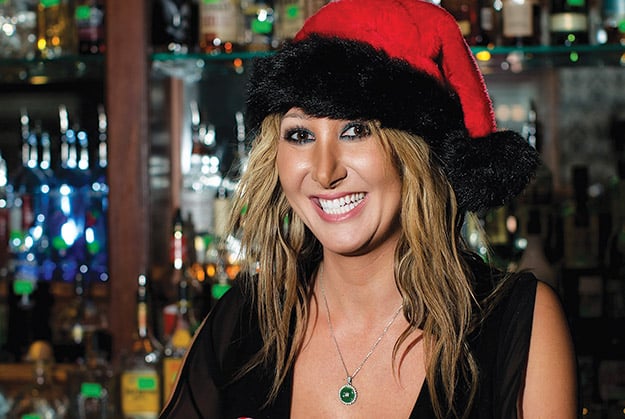 These days, everything is delivered fast. Fast fashion. Fast Food. Fast Drinks. But what if there were more attention given to detail? Crafting a cocktail with care and handpicking the best ingredients is a welcoming trend that is giving mixology enthusiasts a new twist on their favorite beverages.
Sugary, pre-made drink mixes are out. Cocktails made with artisanal syrups, highbrow liqueurs, and fresh spices are in.
"The way the industry is going, (bartenders) are going away from these fifteen-ingredient cocktails where you can't taste everything that's in there, to choosing more fresher ingredients and taking away the syrupy flavored liqueurs," says Lisa Buck (above), a bartender at 1900 Restaurant & Lounge in Lumina Station.
Each week, the bar staff makes homemade simple syrups and infuses them with a variation of spices. Bartenders whip peaks of cream from scratch and skip the sugary additives. The preparation is worth it to concoct the perfect cocktail for their customers, Buck says.
The high standards of this new trend are embraced in Buck's off hours, as well. Her favorite eggnog recipe takes weeks to create and uses free-range eggs.
"See, a lot of bars buy boxed eggnog because it's such a process to make," Buck says. In her personal recipe, she mixes the eggs and alcohol for roughly twenty minutes. The mixture is then placed in a cool space to ferment for about a month. It's more work, considering there are plenty of pre-made eggnogs to choose from at the grocer. But Buck says when the recipe is ready and topped with freshly grated nutmeg, "you can taste the difference."
Choosing organic components or even making your own ingredients at home can be the best way to take your cocktails to the next level.
"Don't be scared; mess around with things that you like," Buck says. "There's a lot of good, new stuff out there that is locally made or organic and you can just play around with it all."
Buck shares a few holiday recipes that are sure to add a delicious twist to your upcoming soiree.
Peppermint Bark Martini
This stunning beverage is one to behold and taste, from its candy cane encrusted rim to the homemade simple syrup.
"It's a kind of a spin on a vanilla martini or even a regular Candy Cane martini," Buck says.
To give the martini a crisp flavor, she uses Tito's Handmade Vodka.
"It's wildly popular now. It's made from corn and is gluten free, and it has a really clean flavor to it," she says.
And if you want to leave the measuring and mixing to someone else, it's also available on 1900's bar menu in December.
INGREDIENTS
2 oz. Godiva White Chocolate Liqueur
1 oz. Tito's Handmade Vodka
0.5 oz. peppermint schnapps
0.5 oz. homemade vanilla infused simple syrup
Dash of fresh cream
DIRECTIONS: Shake with ice and strain into a crushed candy cane rimmed martini glass. Add a candy cane garnish. Serve.
Irish Coffee
Nothing is more soothing and comforting in the winter than an Irish coffee, but Buck says many bars fail to make this drink correctly.
"Everyone makes them wrong," she says, with a laugh. "But even people I know who don't drink coffee that much are obsessed with this recipe. It starts with good coffee … and don't forget the heaping tablespoon of brown sugar."
For the perfect cream top, she insists on whipping the cream not stirring it.
"Use good quality, organic fresh cream. (When you whip the cream) you don't want it to be stiff, but you want to make it very, very thick, like the consistency of a Cadbury Egg," she says. "So when you spoon it out on top of the Irish coffee, it creates this nice flat, thin white layer."

INGREDIENTS
½ to ¾ cup of fresh hot coffee
1.5 oz. Jameson Irish Whiskey
1 tablespoon dark brown sugar
Homemade whipped cream

DIRECTIONS: Mix the first three ingredients together.
Top with an inch of homemade whipped cream. Do not add sugar. Do not stir. Serve.
1900's Hot Toddy
This classic drink ditches the typical syrups in lieu of clove-and-cinnamon-infused honey.
"We just simmered this down some and let it sit for awhile to get the flavor infused into the honey," Buck says.
To make your own version of this concoction, heat some honey, whole cloves, and cinnamon sticks in a small saucepan over a low flame for twenty minutes.
Pour the contents into a container, cover it, and allow it to sit and infuse for a week. When you're ready to use the syrup, heat it again for five to ten minutes on a low flame. Strain the liquid and serve in this recipe.W
INGREDIENTS
1.5 oz. Kraken Black Spiced Rum
½ oz. homemade clove and cinnamon infused honey
½ cup of hot water
Orange peel for garnish

DIRECTIONS: Combine all ingredients except garnish. Garnish glass with orange peel. Serve.
To view more of photographer Megan Deitz's work, go to www.megandeitz.com