The Great Escape
Get away in boho flair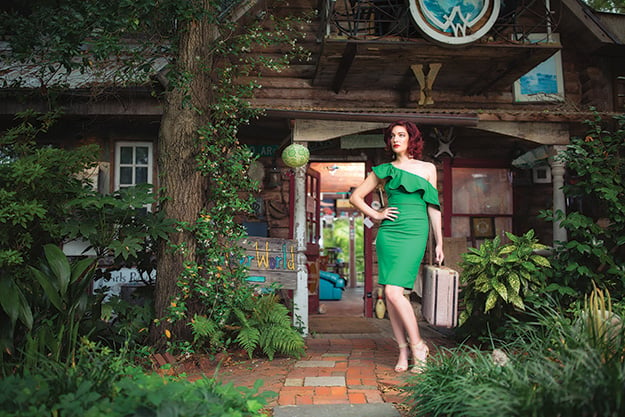 Summertime – marked by leisurely days, warm nights, and, if you're lucky, a little time off from the daily grind.
If jetting off to some exotic locale is not in the cards, don't worry; there are plenty of places to recharge and be inspired right in your own backyard.
Enter WalkerWorld, a colorful artist retreat in Castle Hayne where imagination and reality collide in delightful and unexpected ways – just as your summer wardrobe should.
So, get a little funky with your warm weather wear and don't be afraid to embrace the eclectic.
-Nina Bays Cournoyer
Above: One-shoulder DRESS ($62) and disco drop EARRINGS ($12), both available at Aqua Fedora; SHOES (stylist's own)
Below: White TANK ($18), yellow BANDEAU ($6), and multi-colored JOGGER PANT ($20), all available at Planet; gold wing LEATHER CUFF ($32), available at Aqua Fedora; shoes (stylist's own)
Right: Cream, ribbed BODYSUIT ($42) and sand-colored, wrapped MAXI SKIRT ($53), both available at Tusc; NECKLACE ($49.99), available at Aqua Fedora
STYLIST: A'ngelia Fonville
MODEL: Arianna Tysinger
HAIR: Kate Bailey
MAKEUP: Anna Woodall Lee
LOCATION: WalkerWorld Organic Artist Retreat, 453 Blossom Ferry Road, Castle Hayne
To view more of photographer Chris Brehmer's work, visit chrisbrehmerphotography.com.